AN OVERVIEW OF GNSS APPLICATIONS
Sunjida Sultana

MIST

Tasmia Reza

MIST

Mahdia Tahsin

MIST

Md. Hossam-E-Haider

MIST
Keywords:
GNSS, GPS. GLONASS, BeiDou, Navigation
Abstract
Global Navigation Satellite System (GNSS) is basically a system of satellites providing autonomous geo
spatial positioning with global coverage. There are mainly four GNSS systems currently in operation. They
are the United States' Global Positioning System (GPS), Russian Federation's Global Orbiting Navigation
Satellite System (GLONASS), Chinese BeiDou Navigation Satellite System (BDS) and European Galileo.
The possible uses of GNSS are enormous and spanning many domains. In this paper effort has been taken
to highlight some recent and practical applications of this technology, special focus on military and
commercial applications in various fields.
Downloads
Download data is not yet available.
References
[1] Paul B. Larsen, (May 2001). "Issues relating
to civilian and military dual uses of
GNSS': ELSEVIER, Vol. 17, Issue 2, pp.11 -119,
DOI:1 0.1016/50265-9646 (01) 00007-8.
[2] An Interim Report to Congress,"Conduct
of the Persian Gulf Conflict".
[3] Paul D. Groves, "Principles of GNSS, Inertial,
and Multisensor Integrated Navigation
Systems;' Artech House, ISBN-13: 978-1--
58053-255-6.
[4] Scott Gleason, Demoz Gebre-Egziabher,
"GNSS Applications and Methods'; Artech
House,ISBN-13:978-1 -59693-329-3.
[5] M.Rycroft, "Satellite Navigation
Systems:Policy, Commercial and Technical
Interaction," Kluwer Academic Publishers,
ISBN 1-4020-1678-6.
[6] Liu Wenjiao, Yang Dongkai, Gao Chaoqun,
Zhang Qishan, "Soil Moisture Observation
Utilizing Reflected Global Navigaiton
Satellite System Signals'; ID - 118, published
in 1 st ICEEICT 2014.
[7] Michael bevis, Steven Businger, Thomas
A. Herring,Christian Rocken, Richard A.
Anthes and Randolph H. Ware, (October 20,
1992). "GPS Meteorology Remote Sensing of
Atmospheric Water Vapor Using the Global
POSitioning System'; Journal of geophysical
research, Vol. 97, No. D14, pp. 15,787-15,801.
[8] Uan Blanch, Todd Walter, and Per Enge,
(May 13th, 2012). "Satellite Navigation for
Aviation in 2025;'Proceedings ofthe IEEE, vol.
100.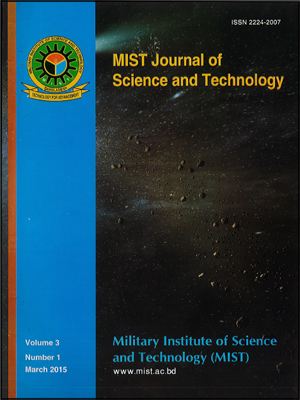 How to Cite
Sunjida Sultana, Tasmia Reza, Mahdia Tahsin, & Md. Hossam-E-Haider. (2019). AN OVERVIEW OF GNSS APPLICATIONS. MIST INTERNATIONAL JOURNAL OF SCIENCE AND TECHNOLOGY, 3(1). https://doi.org/10.47981/j.mijst.03(01)2015.106(%p)
Though MIJST follows the open access policy, the journal holds the copyright of each published items.

This work is licensed under a Creative Commons Attribution-NonCommercial 4.0 International License.