THE NULL EFFECT OF CROSS SECTIONS OTHER THAN THE MAXIMUM PITTED CROSS SECTION ON STRENGTH REDUCTION OF AGED MARINE PLATES SUBJECTED TO UNIAXIAL TENSILE LOADING
Commodore M Munir Hassan

MIST

Tasmia Hoque

MIST

Lieutenant Colonel Muhammad Rabiul Islam

MIST
Keywords:
Strength Reduction, Pitting Corrosion, MSC NASTRAN, Nonlinear Implicit Analysis, Probabilistic Corrosion Mod
Abstract
It is of essential importance to predict the strength reduction due to pitting corrosion for a proper condition assessment of aged ships. The crucial location of maximum pitting as well as the heavy unevenness of the metal surface creates difficulties for the surveyors to perform the survey. Empirical formula based on statistical data can assess the strength reduction due to pitting on the basis of damage intensity where the strength reduction is only a function of maximum pitted cross section. In this study, the formula is established again by nullifying the effect of other cross sections on the strength reduction except the maximum pitted cross section. This null effect of less pitted cross sections will increase the surveyors' confidence to concentrate only on the maximum pitted cross section. A series of finite element analysis is carried out where MSC NASTRAN nonlinear implicit analysis code has been used in large deformation analysis of two different pitted marine steel rectangular plate samples. The pitting patterns of different intensity used in this study were generated by other researchers using a probabilistic corrosion model.
Downloads
Download data is not yet available.
References
[1] Sumi Y, Strength and Deformability of Corroded Steel Plates
Estimated by Replicated Specimens (Journal of Ship Production,
24(3), 2008), pp.161-167.
[2] Nakai T, Matsushita H, Yamamoto N and Arai H, Effect of Pitting
Corrosion on Local Strength of Hold Frames of Bulk Carriers (1st
report) (Marine Structures, 17, 2004), pp.403-432.
[3] Oka M, Kitada H & Watanabe T : Experimental study on statistical
strength of corrosive mild steel, Journal of the Japan Society of Naval
Architects and Ocean Engineers, 167, 1990, pp.229-235 (in Japanese).
[4] Paik J K, Lee J M and Ko M J, Ultimate Strength of Plate Elements
with Pit Corrosion Wastage (J Engineering for Maritime Environment,
Vol.217, 2003), pp.185-200.
[5] Paik, J K, Lee J M & Ko M J: Ultimate shear strength of plate elements
with pit corrosion wastage, Thin-Wall Structures, 42, 2004, pp.1161-1176.
[6] Ahmmad Md. M and Sumi Y, Strength and Deformability of
Corroded Steel Plates under Quasi-static Tensile Load (J Mar Sci
Technol, Vol.15(1), 2010), pp.1-15.
[7] Islam M. R. and Sumi, Geometrical Effects of Pitting Corrosion on
Strength and Deformability of Steel Rectangular Plates Subjected to
Uniaxial Tension and Pure Bending (jjasnaoe,14, 2011, 9).
[8] Yamamoto N and Ikegami K, A Study on the Degradation of
Coating and Corrosion of Ships Hull Based on The Probabilistic
Approach (Journal of Offshore Mechanics and Arctic Engineering
120, 1998), pp.121-128.
[9] Islam M. R., PHD thesis titled Geometrical Effects Of Pitting
Corrosion On Strength And Deformability Of Steel Plate Subjected
To Tensile Load And Bending, 2011 .
[10] Robert McNeel and Associates, Rhinoceros user guide: NURBS
modeling for Windows. Version 3.0 (McNeel, Seattle, 2003).
[11] Combined Documentation, MD Patran Users Guide (MSC.
Software Corporation, Santa Ana, California, 2006 R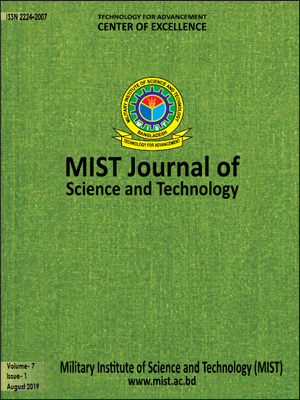 How to Cite
Commodore M Munir Hassan, Tasmia Hoque, & Lieutenant Colonel Muhammad Rabiul Islam. (2019). THE NULL EFFECT OF CROSS SECTIONS OTHER THAN THE MAXIMUM PITTED CROSS SECTION ON STRENGTH REDUCTION OF AGED MARINE PLATES SUBJECTED TO UNIAXIAL TENSILE LOADING. MIST INTERNATIONAL JOURNAL OF SCIENCE AND TECHNOLOGY, 7(1). https://doi.org/10.47981/j.mijst.07(01)2019.130(%p)
Though MIJST follows the open access policy, the journal holds the copyright of each published items.

This work is licensed under a Creative Commons Attribution-NonCommercial 4.0 International License.