LOCAL RESIDENT'S ATTITUDES TOWARDS THE IMPACT OF TOURISM DEVELOPMENT: A STUDY OF SAINT MARTIN ISLAND, BANGLADESH
Masum Miah

Noakhali Science and Technology University

Mst. Jannatul Mawa

Noakhali Science and Technology University
Keywords:
Local residents, residents' attitudes, tourism development, impacts
Abstract
The purpose of this study is to determine the local residents' attitudes of tourism development of Saint Martin Island.
This research analyzes resident's perceptions and attitudes of the impact of tourism development and examines the
factors that influence the support for tourism development of Saint Martin Island, Bangladesh. To this end, a survey
was administered among 150 respondents who were local residents of Saint Martin Island, using a type of nonprobability
sampling that is convenience sampling technique. Following data collection from a questionnaire, factor
analysis, correlation and regression analyses were conducted. Four factors (economic impacts, socio-cultural impacts,
environmental impacts, physical impacts) emerged and these all four factors are interrelated and highly influential
local resident's attitudes towards tourism development. Additionally, it is evident from the beta coefficient of multiple
regression analysis that economic impacts had significant positive influence on tourism development whereas sociocultural,
environmental and physical impacts had negative impacts on tourism development in the region.
Downloads
Download data is not yet available.
References
[1] Akis, S., Peristianis, N. & Warner, J. (1996). Residents attitudes
to tourism development: the case of Cyprus. Tourism Management,
17(7), 481-404.
[2] Allen, L. R., Long, P. T., Perdue, R. R. & Kieselbach, S. (1988).
The impact of tourism development on residents' perception of
community life. Journal of Travel Research, 27(1), 16-21.
[3] Allen, L. R., Hafer, H. R., Long, P. T. & Perdue, R. R. (1993).
Rural residents attitudes toward recreation and tourism development.
Journal of Travel Research, 31(4), 27-33.
[4] Allport, G. W. (1935). Attitudes. In C. Murchison (Ed.), A
handbook of Social Psychology (pp. 798-844).
[5] Bramwell, B. (1996) Sustainable Tourism Management Education
in Europe. Tourism Management, 17(4), pp. 307-310.
[6] Coccossis, H. (1996) Tourism and Sustainability: Perspectives
and Implications. In: Prietley, G. K.,Edwarads, J. A. and Coccossis,
H. eds. Sustainable Tourism? European Experiences. CABI, UK, pp.
1-21.
[7] Crompton, J. L. (1979). Motivations for pleasure vacation. Ann.
Tour. Res. 1979, 6, pp. 408–424.
[8] Dann, G. M. S. (1997). Anomie, ego-enhancement and tourism.
Ann. Tour. Res. 1977, 4, pp. 184–194.
[9] Feeroz, M. M. (2009). Effects of Environmental Degradation
on Food Security in the St. Martin"s Island of Bangladesh. A Study
carried out with the support of the National Food Policy Capacity
Strengthening Programe, pp. 12
[10] Gee, C. Y., Mackens, J. C. & Choy, D. J. (1989). The Travel
Industry. New York: Van Nostrand Reinhold.
[11] Giannakis, E. The role of rural tourism on the development of
rural areas: The case of Cyprus Elias. Romanian J. Reg. Sci. 2014,
8, 38–53.
[12] Garau, C. Perspectives on cultural and sustainable rural tourism
in a smart region: The case study of Marmilla in Sardinia (Italy).
Sustainability 2015, 7, 6412–6434. [CrossRef]
[13] Haque. M. (2000) 'Implementation of International Conventions,
Treaties and Protocols on Environment and Development', Bangladesh
State of Environment Report (Dhaka: FEJB) pp. 285-293.
[14] Hasan. J. (2000) 'Environmental Laws in Bangladesh: In Search
of a Regulatory Framework', Bangladesh State of Environment
Report (Dhaka: FEJB) pp. 297-306.
[15] Islam. M. Z. (2002a) 'Marine Turtle Nesting at St. Martin's
Island', Marine Turtles Newsletter 96, pp. 19-21
[16] Islam.M. Z. (2002b) 'Threats to Sea Turtles in St. Martins Island,
Bangladesh', Kachhapa 6, pp 8-11.
[17] Islam. M. Z. (2001) St. Martin Pilot Project, National
Conservation Strategy (NCS) Implementation Project-1, Final Report
(Dhaka: Ministry of Environment & Forest, Government of the
Peoples Republic of Bangladesh).
[18] Mollah. A. R. (1997) 'Status of Coral and Associated Resources
in Bangladesh', FAO Corporate Document Repository, www.fao.org/
docrep/x5627e/x5627e08.htm 23 March 2009.
[19] RajaSuriya, A., Zahir, H., Muley, E. V., Subrimunian, B. R.,
Venkataraman, W., Khan, M. H. and Whitingham. E. (2000) 'Status
of Coral Reefs in South Asia: Bangladesh, India, Maldives and Sri
Lanka', Status of the Coral Reef of the World Newsletter 6, pp. 95-
116.
[20] Rashid. S. M. A. (2008) 'Is Restriction on Construction Enough
to Protect St. Martins Biodiversity?' The Daily Star, 5 May 2008.
[21] Rashid. S. M. A. (1997) 'Bangladesh National Report for the
Northern Indian Ocean Sea Turtle Workshop and Strategic Planning'
(Incomplete citation).
[22] Ramseook-Munhurrun, P.; Naidoo, P. Residents' attitudes toward
perceived tourism benefits. Int. J.Manag. Mark. Res. 2011, 4, 45–56.
[23] Shariff,N.M.;Abidin, A.Z.Community attitude towards tourism
impacts:Developingastandardinstrument in the Malaysian context.
E-J. Soc. Sci. Res. 2013, 1, 386–396.
[24] Singh, R.B. and Mishra, D.K. 2004. Green tourism in mountain
regions: Reducing vulnerability and promoting people and place
centric development in the Himalayas. Journal of Mountain Science,
1 (1), 57 -64.
[25] Singh, R. B., Mal, S., and Kala, C. P. 2009. Community responses
to mountain tourism: A case in Bhyundar valley, Indian Himalaya.
Journal of Mountain Science, 6 (4), 394 -404.
[26] Sirakaya, E. Teye, V., and Sönmez, S. F. 2002. Understanding
residents' support for tourism development in the Central Region of
Ghana. Journal of Travel Research, 41, 57 -67.
[27] Stetic, S. Specific features of rural tourism destinations
management. J. Settl. Spat. Plan. 2012, 1, 131–137.
[28] Trousdale, W., 1999, "Governance in Context: Boracay Island,
Philippines" Annals of Tourism Research, pp. 840-867.
[29] Vargas -Sánchez, A., Porras -Bueno, N. and Plaza -Mejía, M.
2011. Explaining residents' attitudes to tourism: Is a universal model
possible?. Annals of tourism research, 38 (2), 460 -480.
[30] Wang, Y. and Pfister, R.E. 2008. Resident's attitudes toward
tourism and perceived personal benefits in a rural community. Journal
of Travel Research, 47 (1), 84–93.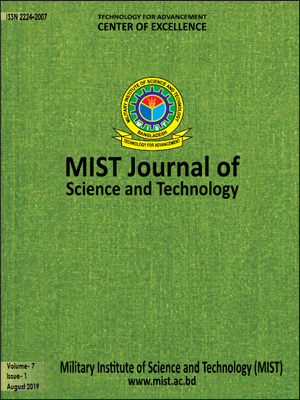 How to Cite
Masum Miah, & Mst. Jannatul Mawa. (2019). LOCAL RESIDENT'S ATTITUDES TOWARDS THE IMPACT OF TOURISM DEVELOPMENT: A STUDY OF SAINT MARTIN ISLAND, BANGLADESH. MIST INTERNATIONAL JOURNAL OF SCIENCE AND TECHNOLOGY, 7(1). https://doi.org/10.47981/j.mijst.07(01)2019.136(%p)
Though MIJST follows the open access policy, the journal holds the copyright of each published items.

This work is licensed under a Creative Commons Attribution-NonCommercial 4.0 International License.