SPATIAL ANALYSIS OF THE INTEGRATION CORE OF COMILLA CITY CORPORATION AREA AND THE IMPACT OF THE BY-PASS ROAD - A SPACE SYNTAX ANALYSIS
Ishrat Zerin Hossain Mou

Stamford University Bangladesh
Keywords:
Comilla City, Integration core, Impact, By-pass road, Space syntax
Abstract
Urban area changes according to different uses of space and movement with the passage of time, as seen in land use,
road network etc. Urban morphological transformation constantly remains under succession. The urbanization process
substantially increases the demand for urban services such as transport, on whose efficiency and availability, the successful
and continued existence of urban society depends. Transportation has a strong influence on the spatial structure at the
local, regional and global levels. Historically, both social and economic growth within civilizations, have been structured
by routes of travel. Thus, it is not surprising that a city's circulation system has become an important facet in today's
communication-oriented urban life. Adequate transportation facilities are vital to promote growth, manage the effects
of development and protect and improve city's quality of life. The paper is intended to analyze the present land uses of
Comilla city (area under the newly formed City Corporation) by drawing axial lines over the collected base map and
identify the integration core of the city, in relation to the introduction of the Dhaka – Chittagong by-pass road. The town
though facing tremendous pressure of haphazard development, has the scope for suggested and designed development
through rigorous surveys and analytical methods using space syntax analysis. This study helps to assess the spatial
impact of introducing a by-pass road on the existing physical city in relation to its functional organization.
Downloads
Download data is not yet available.
References
[1] en.banglapedia.org
[2] Bangladesh Bureau of Statistics
[3] Bangladesh Population Census 2001.
[4] www.dccomilla.gov.bd
[5] IDP 2017-2018, CoCC, Updated Infrastructure Developement
Plan, Comilla City Corporation
[6] Hillier, B, (2014), The Generic City and its Origins, DOI: 10.1002/
ad.1815
[7] Hillier, B. (1996), Space is the Machine: A Configurational Theory
of Architecture, Cambridge University Press.
[8] Hillier, B. and Hanson, J. (1984), The Social Logic of Space,
Cambridge: Cambridge University Press.
[9] Jiang, B. and Claramunt, C. (1999), A Comparison Study on
Space Syntax as a Computer Model of Space, Second International
Symposium on Space Syntax, Universidade de Brasilia, Brasilia.
[10] Nilufer, F. (1997) The Spatial and Social Structuring of Local
Areas in Dhaka City—A Morphological Study of the Urban Grid
with Reference to Neighbourhood Character within Naturally-Grown
Areas. Ph.D. Thesis, University College London, London.
[11] Khan, N., (2008) Study of morphological transformation on
planned residential areas of Dhaka city, unpublished M.Arch Thesis.
[12] Jacoby, K. (2006), What is Space Syntax? Does the urban form of
the city affect the level of burglary and crime?
[13] www.dccomilla.gov.bd
[14] www.banglapedia.com
[15] www.lged.gov.bd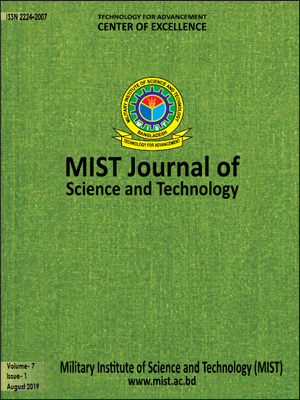 How to Cite
Ishrat Zerin Hossain Mou. (2019). SPATIAL ANALYSIS OF THE INTEGRATION CORE OF COMILLA CITY CORPORATION AREA AND THE IMPACT OF THE BY-PASS ROAD - A SPACE SYNTAX ANALYSIS. MIST INTERNATIONAL JOURNAL OF SCIENCE AND TECHNOLOGY, 7(1). https://doi.org/10.47981/j.mijst.07(01)2019.139(%p)
Though MIJST follows the open access policy, the journal holds the copyright of each published items.

This work is licensed under a Creative Commons Attribution-NonCommercial 4.0 International License.