EXPERIMENTAL INVESTIGATION ON THE IMPACT OF CONCRETE STRENGTH ON THE DUCTILITY OF REINFORCED CONCRETE FRAME STRUCTURES
Lieutenant Colonel Bhuiyan Mohammad Golam Kibria

National Defence Colloge, Mirpur Cantonment
Keywords:
Concrete strength, ductility, interior joint, seismic loading
Abstract
This experiment was undertaken to study the impact of concrete strength on the ductility of reinforced concrete frame
structure. Two half scale interior joint with monolithic transverse beams and slab from a six storied residential building
were selected for the experiment. The joints were constructed without any shear reinforcement within the joint region
to evaluate the contribution of concrete strength in bond stress between the longitudinal reinforcement and concrete.
Bond stress has important specific roles on the ductility of the joint in particular and on the ductility of the global
structure in general. The models were subjected to incremental static cyclic lateral loading provided by hydraulic jacks
under constant axial loading. Deflections and rotations were measured by dial gauges and a video extensometer. It is
found from the study that ductility of the structural members i.e. beams, columns and joints increased remarkably with
increased concrete strength.
Downloads
Download data is not yet available.
References
[1] American Concrete Institute (ACI)-ASCE Committee 352.
(2002). "Recommendations for Design of Beam-Column Connections
in Monolithic Reinforced Concrete Structures." ACI 352R-02,
Farmington Hills, MI.
[2] American Concrete Institute (ACI) Committee 318. (2002).
"Building code requirements for structural concrete and commentary."
ACI 318-02 and ACI 318R-02, Farmington Hills, MI.
[3] Akguzel,U., and Pampanin, S. (2007). "Seismic Response of RC
Beam-Column Joints Upgraded with FRP Sheets. II: Analysis and
Parametric Study." ASCE, Journal of Composites for Construction,
Vol. 11, No 6, pp. 590-600.
[4] Akguzel, U., and Pampanin, S. (2012). "Assessment and Design
Procedure for the Seismic Retrofit of Reinforced Concrete Beam-
Column Joints using FRP Composite materials." ASCE, Journal of
Composites for Construction, Vol. 16, No 1, pp. 21-34.
[5] Cosgun, Cumhur.,Comert, Mustafa., Demeir, Cem., and Ilki,
Alper. (2012). " FRP Retrofit of a Full Scale 3D RC Frame," Istanbul
Technical University.
[6] Eligehausen, R., Popov, E.P., and Bertero, V.V. (1983)
"Local Bond Stress-slip Relationships of Deformed Bars under
Generalised Excitations."Report UCB/EERC-83/19, Earthquake
Engineering Research Center, University of California, Berkeley,
178p.
[7] Federal Emergency Management Agency (FEMA). (1997).
"NEHRP Guidelines for Seismic Rehabilitation of Buildings October."
FEMA 273.
[8] Hakuto, S., Park, R., and Tanaka, H. (2000). "Seismic Load Tests
on Interior and Exterior Beam-Column Joints with Substandard
Reinforcing Details." Structural journal, ACI, 97(1), pp11-25.
[9] Ichinose, T. (1991). "Interaction between Bond at Beam Bars and
Shear Reinforcement in RC Interior Joints, Design of Beam-Column
Joints for Seismic Resistance." SP-123, American Concrete Institute,
Farmington Hills, Mich., pp. 379-400.
[10] Leon, R.T. (1990). "Shear Strength and Hysteretic Behavior of
Beam-Column Joints," ACI Structural Journal, Jan-Feb, vol.87, No.1,
pp. 3-11.
[11] .Nilson., H Arthur. (1997). "Design of Concrete Structures." 12
Edition, chap 10, pp 332-358, The McGraw-Hill Companies, Inc,
New York.
[12] Neville, A.M. (1995). "Properties of Concrete," chap 3, pp 108-
120, 4th Edition, Pearson Education, Inc, Nodia, India.
[13] Prota, Andreas.,Nanni , Anotnia., Gaetano, Manfredi., and Cosenza, Edoward. (2004). "Selective upgrade of under Designed
Reinforced Concrete Beam-Column Joints Using Carbon Fiber
Reinforced Polymers." ACI Structural Journal, Sep-Oct vol 101, No
5, pp 699-707.
[14] Paulay, T., and Priestley, M.J.N. (1992)."Seismic Design
of Reinforced Concrete and Masonry Buildings," John Wiley
publications New York.
[15] Uma, S.R., and Prasad, A.Meher., (2005). "Seismic Behavior
of Beam Column Joints in Reinforced Concrete Moment Resisting
Frames." document no IITK-GSDMA-EQ-31-V1-0, IITK-GSDMA
Project on Building Code.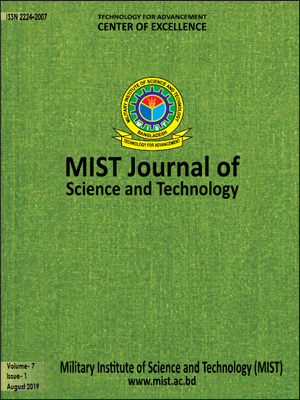 How to Cite
Lieutenant Colonel Bhuiyan Mohammad Golam Kibria. (2019). EXPERIMENTAL INVESTIGATION ON THE IMPACT OF CONCRETE STRENGTH ON THE DUCTILITY OF REINFORCED CONCRETE FRAME STRUCTURES. MIST INTERNATIONAL JOURNAL OF SCIENCE AND TECHNOLOGY, 7(1). https://doi.org/10.47981/j.mijst.07(01)2019.140(%p)
Though MIJST follows the open access policy, the journal holds the copyright of each published items.

This work is licensed under a Creative Commons Attribution-NonCommercial 4.0 International License.