INTREGRATION OF TELECOMMUNICATION IN PASSPORT MAKING PROCESS - A PSEUDO MEANS TO REDUCE TRAVEL DEMAND AND OTHER SUFFERINGS
Major Md. Kabirul Islam

Md. Shamsul Hoque

Professor
Keywords:
Telecommunication, ICT, Peak period trip, Fuel Free Trips, Electronic Trips, Travel Demand
Abstract
Telecommunication or Information Communication Technologies (ICT) that is changing rapidly every aspects of life, is also bringing significant changes in the traditional concept of transportation. Like other telecom enabled services (1), telecom enabled passport making process has the potential to reduce significant travel demand and associated sufferings of the clients, hence of the society. On this consideration, existing passport making, renewal, amendment processes have been critically analyzed in this paper to identify the amount and pattern of physical trips and associated sufferings involved in these processes as well as to explore the way of how telecommunication or ICT can gainfully be integrated with the system. The analysis found that for the purpose of passport making, renewal and amendement process daily approximately 18,000 trips are made around Dhaka passport office. Most of these trips are made during the peak periods availing the highly congested city transport network spending huge amount of fuel, time, money and labor. It is further estimated that effective integration of ICT in the existing system can reduce or convert 63-75 percent physical trips to Fuel Free (FF) electronic trips. In addition, ICT enabled system can also speed up and simplify the process, minimize massive paper works and corruptions, ease up the social sufferings, and increase the productivity of the system. It is expected that this study would help the transport planners and policy makers' better way of understanding how the ICT can reduce the need for travel demand in different fields and thereby solve local traffic induced problems.
Downloads
Download data is not yet available.
References
1. Islam, M.K., (2007), 'Potential of ICT in Managing Service Related Travel Demand of Bangladesh'.
2. Niles, J.S., (1994), 'Beyond Telecommuting: A New Paradigm for the Effect of Telecommunications on Travel', Global Telematics,
3. Victoria Transport Policy Institute, 'Telework: Using Telecommunications to Substitute for Physical Travel'. TDM Encyclopedia (www.vtpi.org), May 2005
4. Golob, T.F. and Regan, A.C., (2000), "Impacts of Information Technology on Personal Travel and Commercial Vehicle Operations: Research Challenges and Opportunities", University of California, Irvine.
5. Mokhtarian, P.L., et. al, (2004), 'Does Telecommunications Affect Passenger Travel, or Vice Versa? Structural Equation Models of Aggregate U.S. Time Series Data Using Composite Indices' .
6. Canadian Telework Association, 'Telework', Inno Visions Canada, (www. ivc.ca/), 1997- 2005
7. U.S. Department of Transportation, (1997), "Successful Telecommuting Programs in the Public and Private Sector; A Report to Congress",
8. UK Department for Transport, Local Government and the Regions, Virtual Mobility Website (http://www.virtual-mobility.com/)
9. Kamol, E., (2005), "Fake attestations an open secret-Stamps and seals available at groceries even!", The Daily Star, Star City, Vol. 5 Num 464, Wed. Sep 14, 2005
10. Jabbar, M., (2006), "E governance of passport fees and mobile internet", Technology Today, December 2006.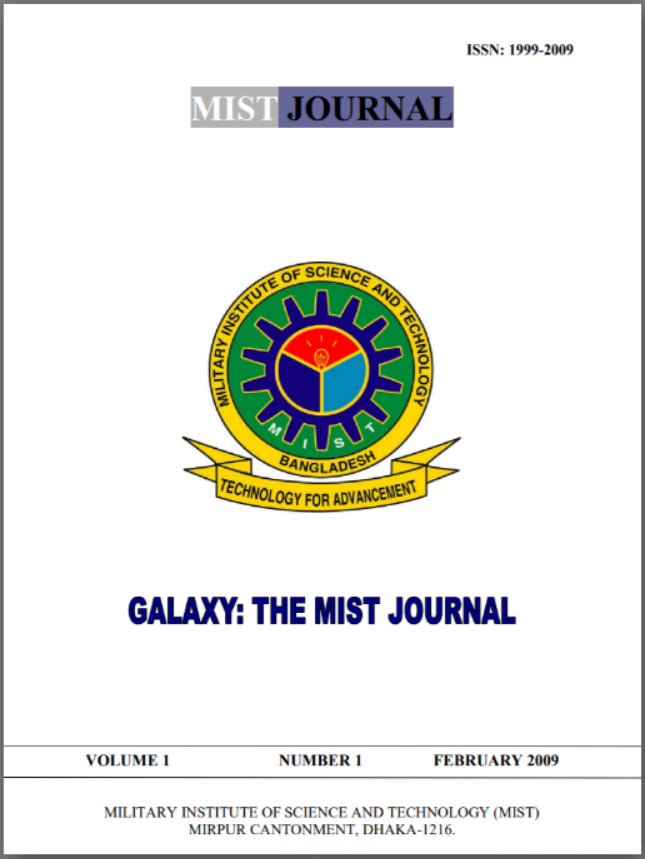 How to Cite
Major Md. Kabirul Islam, & Md. Shamsul Hoque. (2019). INTREGRATION OF TELECOMMUNICATION IN PASSPORT MAKING PROCESS - A PSEUDO MEANS TO REDUCE TRAVEL DEMAND AND OTHER SUFFERINGS. MIST INTERNATIONAL JOURNAL OF SCIENCE AND TECHNOLOGY, 1(1), 1-11. https://doi.org/10.47981/j.mijst.01(01)2009.1(1-11)
Though MIJST follows the open access policy, the journal holds the copyright of each published items.

This work is licensed under a Creative Commons Attribution-NonCommercial 4.0 International License.