STRUCTURE ANALYSIS, VISION BASED CONTROL SYSTEM AND WALKING MECHANISM OF A HUMANOID ROBOT
Alamgir Hossain

MIST

Rahid Zaman

MIST

Miftahur Rahman

MIST
Keywords:
Robotics, Vision system, Biped walking, Color pattern matching
Abstract
For the implementation of an idea, it is essential to have a full engineering system design, simulation and
analysis .. MISTBOY is such a dream-bot which can perform football skills like a human being. This is an
on going humanoid robot project, initially having 17 DoF, 55 cm height and 5 kg weight. In this paper, a
systemati c approach has been presented about the structure, integrated control and the walking
mechanism with analyzed result through simulation and graphical presentation. This paper is specially
focused on fracture of structure, color pattern matching based vision system and simultaneous dynamic
walking mechanism to make the robot balanced.
Downloads
Download data is not yet available.
References
[1] Y. Sakagami, R. Watenabe, C. Aoyama, S.
Matsunaga, N. Higaki and K. Fujimura: (2002),
"The inlelligenl ASIMO : System overview and
integration", Proc. IEEE RSJ Int. Conf. on
Intelligent Robots and Systems, p. 2478 - 2483.
[2] E. Hashemi, M.G. Jadid, M. Lashgarian, M.
Yaghobi, M Shafiei.: (2012), "Particle Filter Based
Localization of the Nao Biped Robots", Proc. IEEE
Southeastern symposium on System Theory,
University of North Florida, Jacksonvile, FL.
[3] W. Park, J-Y. Kim, J. Lee and J-H. Oh: (2005),
"Mechanical Design of Humanoid Robot Platform
KHR-3 (KAIST Humanoid Robot - 3 : HUBO}",
Proc. IEEE - RAS Int. Conf. on Humanoid Robots,
p. 321 - 326.
[4] J. Yamaguchi, A. Takanishi and I. I
(1993), "Development of a bipedal walking robot
compensating for three-axis moment by trunk
motion", Proc. IEEE RSJ Int. Conf. on Intelligent
Robots and Systems, p. 561 - 566.
[5] A. Hossain, R. Zaman, M. Rahman, R. Masud
, N. Arafat and F. Abdullah: (December 201 3),
"Design and kick analysis of a Soccer Robot," in
Applied Mechanics and Materials Journal (ISSN:
1660-9336) , Australia.
[6] A. Hossain, R. Zaman, M. Rahman, R. Masud
, N. Arafat and F. Abdullah, A. Rahman, (2013),
"Development of an Integrated Vision system to
Control a Soccer Playing Humanoid Robot", in
Proc 4th Global Engineering, Science and
Technology Conference (ISSN 2201-6848).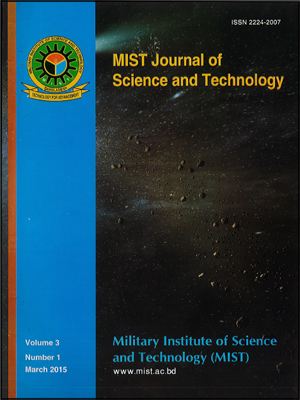 How to Cite
Alamgir Hossain, Rahid Zaman, & Miftahur Rahman. (2019). STRUCTURE ANALYSIS, VISION BASED CONTROL SYSTEM AND WALKING MECHANISM OF A HUMANOID ROBOT. MIST INTERNATIONAL JOURNAL OF SCIENCE AND TECHNOLOGY, 3(1). https://doi.org/10.47981/j.mijst.03(01)2015.104(%p)
Though MIJST follows the open access policy, the journal holds the copyright of each published items.

This work is licensed under a Creative Commons Attribution-NonCommercial 4.0 International License.