STUDY ON CITIZENS' INTENTION TO ADOPT E-GOVERNMENT: CASE COUNTRY 'BANGLADESH'
Md. Shafiul Alam Chowdhury

UU

Tahmina Sultana

MIST

Mohammed Sowket Ali

BAUST
Keywords:
Electronic/e-Government, Evaluation model, Internet
Abstract
In this paper, a model is developed and proposed to evaluate the citizens' intentions to adopt
e-Government, their knowledge, experiences, as well as their perceptions on risks, trust, behavioral control,
and the usefuln ess of e-Government. The proposed model (Evaluation model) is based on previous
research and theories on technology acceptance and it follows the 7 guidelines of design-science research.
A questionnaire was made to measure the variables in the model, including personal knowledge,
experiences, trust in government and e-Government. In addition, perceived risk, behavioral control,
subjective norms and usefulness of e-Government were also considered. The survey was carried out in a
number of big cities in Bangladesh with about 200 people participating in the completion of the
questionnaire. The results showed that the relationship between variables in the model is significant. Trust
in the government is not a significant indicater of trust in the e-Government, while trust and risks are found
to be sign ificantly inter-related. The prerequisites to access to e-Government like computers and the
internet were found to be directly related to the citizens' intentions to adopt it. The results also illustrated a
surpri sing high rate of citizens who are willing to adopt the e-Government at the place of interview. This is
a desired rate that all the governments want to achieve when deploying e-Government project.
Downloads
Download data is not yet available.
References
[1) Heeks, R. (2003), "Most E-Government for
development projects fail: How can risk be
reduced ," Institute for Development Policy and
Management, University of Manchester,
Manchester, U.K
[2) Torki Altameem, Mohamed Zairi, Sarmad
Alshawi (2006), "Critical Success factors of
E-Government: A proposed Model for
E-Government implementation", IEEE, Innovations
in Information Technology, 2006, pp. 1-5
[3) Yong Soon KIM (2006), "Challenges and
Barriers in Implementing E-government:
Investigation on NElS of Korea", Proceedings of
ICACT 2006, Volume III, pp. 2213-2218, Seoul,
Korea.
[4) Enrique Stanziola, Mauricio Minuto Espil , Luis
Landoni, Santiago Montoya (2006), "Hidden
Negative Social Effects of Poor e-Government
Services Design," EGOV 2006, pp. 150-161.
[5) Jaeger, P.T. (2003), "The endless wire:
E-Government as global phenomenon".
Government Information Quarterly 20, 323- 331.
[6) Lowe, C. (2003), "Experiences of take-up of
E-Government in Europe". Lecture Notes in
Computer Science 2739, pp. 160- 163
[7) Siegfried, T., Grabow, B., Dru 'ke, H. (2003),
"Ten factors for success for local community
E-Government". Lecture Notes in Computer
Science 2739, pp. 452-455.
[8) Jorge Marcelo Montagna (2005), "A framework
for the assessment and analysis of electronic
government proposals". Electronic Commerce
Research and Applications 4(3), pp. 204-219.
[10) Wood, F.B., Siegel, E.R., LaCroix, E.M., Lyon,
B.J., Benson, D.A., Cid, V., Fariss, S. (2003), "A
practical approach to E-government Web
evaluation," IT Professional, pp. 22-28.
[11) Lili, w., Stuart, B., Jon, P.G. (2005),
"Evaluating Web-Based E-Government Services
with a Citizen-Centric Approach," HICSS 2005.
[12) Steyaert, J.C. (2004), "Measuring the
performance of electronic government services",
Information & Management, Vol. 41 No.3,
pp.369-78
[13) Horan, T. A., Abhichandani, T. and Rayalu, R.
(2006), "Assessing User Satisfaction of
E-Government Services: Development and
Testing of Quality-in-Use Satisfaction with
Advanced Traveler Information Systems (ATIS)",
Hawaii International Conference on Systems
Sciences, Kauai, Hawaii.
[14) Bettina, L., Michael, E. M. (2005), "Citizen
Relationship Management and EGovernment,"
EGOV 2005, pp. 57-68.
[15) Tae-Hyun Kim, Kwang Hyuk 1m, Sang-Chan
Park, (2005), "Intelligent Measuring and Improving
Model for Customer Satisfaction Level in
e-Government". EGOV 2005: pp. 38-48
[16) M. Jae Moon, Eric Welch, (2004), "Same Bed,
Different Dreams?: A Comparative Study of
Citizen's and Bureaucrat's Views on
E-government". Proceedings of the Proceedings of
the 37th Annual Hawaii International Conference
on System Sciences (HICSS'04), Track 5, Vol. 5.
[17) Khuong, V.M. , Richard , J. (2006),
"E-Government and business competitiveness: a
policy review", Bangladesh Competitiveness
Initiative.
[18) Davis, F. D. (1989), "Perceived usefulness,
perceived ease of use, and user acceptance of
information technology," MIS Quarterly, 13(3),
319- 339.
[19) ). Ajzen, I. (1991), "The theory of planned
behavior. Organizational Behavior and Human
Decision Processes," 50(2), 179-211.
[20) Lai Lai Tung, Rieck Olaf, (2005), "Adoption of
electronic government services among business
organizations in Singapore. Journal of strategic
information systems", vol. 14, No.4, pp. 417-440.
[21) Alexander van Deursen, Jan van Dijk,
Wolfgang Ebbers (2006), "Why E-government
Usage lags Behind: Explaining the Gap between
Potential and Actual Usage of Electronic Public
Services in the Netherlands." EGOV 2006:
269-280.
[22) Mark Horst, Margo- t Kuttschreuter *, Jan M.
Gutteling (2007), "Perceived usefulness, personal
experiences, risk perception and trust as
determinants of adoption of e-Government
services in The Netherlands," Computers in
Human Behavior archive, Volume 23 , Issue 4 (July
2007), 1838-1852.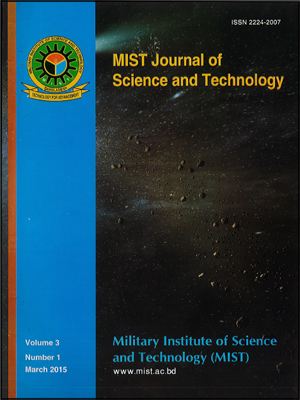 How to Cite
Md. Shafiul Alam Chowdhury, Tahmina Sultana, & Mohammed Sowket Ali. (2019). STUDY ON CITIZENS' INTENTION TO ADOPT E-GOVERNMENT: CASE COUNTRY 'BANGLADESH'. MIST INTERNATIONAL JOURNAL OF SCIENCE AND TECHNOLOGY, 3(1). https://doi.org/10.47981/j.mijst.03(01)2015.110(%p)
Though MIJST follows the open access policy, the journal holds the copyright of each published items.

This work is licensed under a Creative Commons Attribution-NonCommercial 4.0 International License.