A PROPOSED SYSTEM TO GUIDE THE BEST EXIT PATH DURING FIRE HAZARD IN INDUSTRY ENVIRONMENT
Muhammad Nazrul Islam

MIST

Wali Mohammad Abdullah

MIST

Sanjida Nasreen Tumpa

MIST

Niloy Roy

MIST

Md. Imtiaz Abedina

MIST
Keywords:
Artificial intelligence, Fire hazard, Shortest path finding
Abstract
Fire protection is the study where it teaches how to survive during fire hazards and describes the safety
measures during construction of the buildings to prevent destructive fire. Ensuring building code and fire code,
government can enforce some basic safety measures during the construction of buildings. For smart building
and also for already constructed buildings, we need some automated systems to find out the way of nearest
exit for the victims, as well as, finding out the shortest path for the fire fighters to reach the target point. In this
paper, an efficient algorithm is proposed where it provides immediate and dynamic indication of best possible
exit path at the time of fire accidents in industrial environment.
Downloads
Download data is not yet available.
References
[1] Wikipedia, "List of industrial disasters —
Wikipedia, the free encyclopedia." http://en.wikipedia.
org/w/index.php?title=List%20of%20industrial%20
disasters&oldid=758267333, 2017. [Online; accessed
05-January-2017].
[2] T. N. Khoon, P. Sebastian, and A. B. S. Saman,
"Autonomous fire fighting mobile platform," Procedia
Engineering, vol. 41, pp. 1145– 1153, 2012.
[3] W. Dubel, H. Gongora, K. Bechtold, and D.
Diaz, "An autonomous firefighting robot," in IEEE
SOUTHEASTCON, 2003.
[4] M. Nithiya, E. Muthamizh, and I. Yr-ECE, "Fire
fighting robot," Recu-perado a partir de http://www. ifet.
ac. in/pages/intsymp14/TechnoVision, vol. 20, p. 2714.
[5] L. Miller, D. Rodriguez, K. Allen, M. Makeev, J. Plew,
and M. M. E. Schwartz,
[6] "Firebot: Design of an autonomous fire fighting
robot," Ma-chine Intelligence Laboratory, Department
of Electrical and Computer Engineering, University of
Florida, Gainesville, FL, USA, 2003.
[7] S. S. Shah, V. K. Shah, P. Mamtora, and M. Hapani,
"Fire fighting robot," Int. J. Emerg. Trends Technol. Comp.
Appl, vol. 2, no. 4, pp. 232–234, 2013.
[8] F.-q. LIN, Y. ZHANG, and W.-x. YANG, "Fire-fighting
robot based on infrared flame sensor and least-square
method," Transducer and Microsystem Technologies, vol.
1, p. 033, 2015.
[9] A. Hassanein, M. Elhawary, N. Jaber, and M. El-Abd,
"An autonomous firefighting robot," in Advanced Robotics
(ICAR), 2015 International Conference on, pp. 530–535,
IEEE, 2015.
[10] K. A. Alsaif and B. S. Kim, "Smart compact indoor
firefighting robot for extinguishing a fire at an early stage,"
Mar. 10 2015. US Patent 8,973,671.
[11] S.-J. Chen, D. C. Hovde, K. A. Peterson, and A. W.
Marshall, "Fire detection using smoke and gas sensors,"
Fire Safety Journal, vol. 42, no. 8, pp. 507–515, 2007.
[12] Wikipedia, "A* search algorithm — Wikipedia, the
free en-cyclopedia." http://en.wikipedia.org/w/index.
php?title=A*%20search% 20algorithm&oldid=747268230,
2016. [Online; accessed 11-November-2016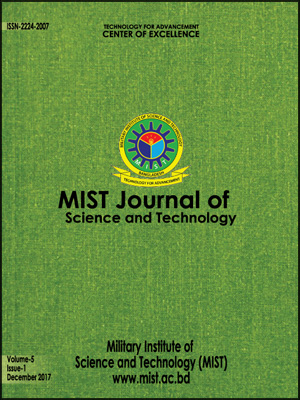 How to Cite
Muhammad Nazrul Islam, Wali Mohammad Abdullah, Sanjida Nasreen Tumpa, Niloy Roy, & Md. Imtiaz Abedina. (2019). A PROPOSED SYSTEM TO GUIDE THE BEST EXIT PATH DURING FIRE HAZARD IN INDUSTRY ENVIRONMENT. MIST INTERNATIONAL JOURNAL OF SCIENCE AND TECHNOLOGY, 5(1). https://doi.org/10.47981/j.mijst.05(01)2017.116(%p)
Though MIJST follows the open access policy, the journal holds the copyright of each published items.

This work is licensed under a Creative Commons Attribution-NonCommercial 4.0 International License.