ATTITUDE OF PROFESSIONALS TOWARDS PROMOTIONAL SMSS: A CASE STUDY IN DHAKA CITY
Kazi Md Ashif Mostafa

MIST

Selin Yasmin

MIST
Keywords:
Promotional SMS, Customers, Professionals, Attitude
Abstract
Promotional SMSs are easy and cost effective tools for the mobile operators to communicate their customers.
Besides the mobile operators and Government, other business houses are also using mobile phones as the
channel to promote their product to the customers. Everyday mobile users are receiving a good number of
promotional SMS. But when the customers are busy professionals, their attitudes regarding promotional SMS
may vary from person to person. This study tries to discover the professionals' attitude towards promotional
SMSs in their daily work life. The research has been conducted in the perspective of Bangladesh and the sample
size is 500 of Dhaka city. By the term 'promotional SMS', the study included commercial SMSs, operators'
offer and government information. The findings of the study show that most of the professionals are disturbed
to have promotional SMSs during the work hour since their work is interrupted for this. The findings also
reveal that the subscribers want more freedom and power to control the nature of promotional SMSs. They
have opinion that the operators should provide provision for a subscriber to control the number, type and time
of promotional SMSs.
Downloads
Download data is not yet available.
References
[1] Beeghley, L. (2004). The structure of social stratification
in the United States. Boston: Allyn & Bacon.
[2] Chowdhury, H. K., Parvin, N., Weitenberner, C., Becker,
M. (2006). Consumer Attitude Toward Mobile Advertising
an Emerging Market: An Empirical Study. International
Journal of Mobile Marketing (December), 33 - 42
[3] Ducoffe, R. H. (1996). Advertising Value and Advertising
on the Web, Journal of Advertising Research (September -
October), 21 - 36
[4] Eichar, D. (1989). Occupation and class consciousness
in America. Westport, CT: Greenwood Press.
[5] Ehrenreich, B. (1989). Fear of falling: The inner life of
the middle class. New York: Harper Perennial.
[6] Gilbert, D. (1998). The American class structure: In an
age of growing inequality. Belmont, CA: Wadsworth Press.
[7] Kumar, A. (2013). Scope and impact of SMS advertising
in India: The case of Bundelkhand Region. International
Journal of Business Research and Development Vol. 2 No.
1, pp. 28 - 34
[8] Shavitt, S., Lowrey, P., & Haefner, J. (1998). Public
attitudes towards advertising: More favourable than you
might think, Journal of Advertising Research 38(4), 7 – 22
[9] Stewart, D. W., & Pavlou, P. A. (2002). From consumer
response to active consumer: Measuring the effectiveness
of interactive media. Journal of the Academy of Marketing
Science, 30(4), 376 - 396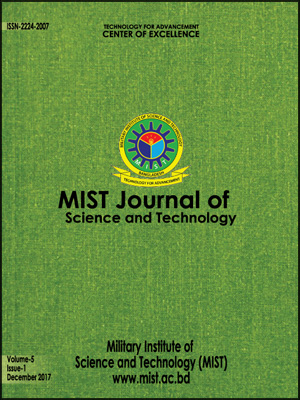 How to Cite
Kazi Md Ashif Mostafa, & Selin Yasmin. (2019). ATTITUDE OF PROFESSIONALS TOWARDS PROMOTIONAL SMSS: A CASE STUDY IN DHAKA CITY. MIST INTERNATIONAL JOURNAL OF SCIENCE AND TECHNOLOGY, 5(1). https://doi.org/10.47981/j.mijst.05(01)2017.118(%p)
Though MIJST follows the open access policy, the journal holds the copyright of each published items.

This work is licensed under a Creative Commons Attribution-NonCommercial 4.0 International License.