PROBLEMS AND PROSPECTS OF MICRO FINANCING IN BANGLADESH: A COMPARATIVE STUDY BETWEEN ISLAMI BANK BANGLADESH LIMITED AND GRAMEEN BANK
Dr. Md. Ferdausur Rahman

MIST
Keywords:
Islami Bank Bangladesh Limited (IBBL), Grameen Bank (GB), Micro Financing
Abstract
The study attempts to analyze the problems and prospects of micro financing in Bangladesh especially in
Islami Bank Bangladesh (IBBL) and Grameen Bank (GB). Since the inception of micro financing organization
like Grameen Bank in Bangladesh in the mid-1970s, a number of countries have copied this model. Different
conventional and Islamic banks also use this model. The apparent popularity of this model among developing
countries is established in poverty alleviation. The paper shows that micro financing in Bangladesh faces
enormous problems in infrastructural inadequacies, social misconception, poor legal and regulatory framework,
unbridled competition from other financial institutions, and lack of qualified manpower. The researcher found
some problems in both the banks commonly like: insufficient amount of credit, illiteracy, social custom barrier,
severe poverty, migration of the clients to other countries and identifying the skilled & reliable customer. Despite
this embarrassment of problems, the study identified several areas where opportunities exist for micro finance.
This paper therefore concludes that the future of microfinance in Bangladesh is bright if the government and
the policy makers consider the recommendations provided by the researcher.
Downloads
Download data is not yet available.
References
[1] Ahmed, M. (2000). Islamic versus conventional banking: A
study of some apparent similarities. A Synopsis Presented in
the Pre-report Submitting Seminar of the Project, Dhaka:
IERB.
[2] Ahmed, M. (2008). Grameen Bank vs. RDS of IBBL: A
comparative analysis. Bangladesh Journal of Islamic Thought.
Vol.04. No.05. Dhaka: BIIT.
[3] Ahmed, S. and Wahab F. R. (1990). Rural women
and non-farm employment in Bangladesh: Some issue.
Bangladesh Journal of Political Economy.Vol. 10. No. 2.
[4] Ahmed, Z. (1990). NGOs approach: Is it a formal theory of
developments? BRAC Reports, Dhaka: BRAC.
[5] Ali, M. K. (2006). Contribution of non-government
organizations (NGO) in human resource d e v e l o p m e n t
(HRD) of Bangladesh: A comparative study of five selected
NGOs. An Unpublished PhD Thesis. Rajshahi University.
[6] Allauddin, M. (1986). Financial innovation for the rural
poor in Bangladesh: Grameen Bank. Krishi Bank Parikrama.
Vol. 3.
[7] Amin, S., Rai, A. S. and Ropa, G. (2003). Does
microcredit reach the poor and vulnerable? Evidence from
Northern Bangladesh. Journal of Development Economics.Vol.
70..
[8] GB. Annual Report Ranging 2000-09.
[9] Bebczuk, R. (2009). Some access to credit in Guatemala
and Nicaragua: Challenging conventional wisdom with evidence.
Working Papers.
[10] Bruntrup M., Alauddin S. M., Huda, A., and Rahman,
M. (1997). Impact assessment of the association for social
development. A Research Report. Dhaka: ASA.
[11] Fujita, K. (2000). Credit flows from the poor to the
rich: The financial market and the role of the Grameen
Bank in rural Bangladesh. The Developing Economics, Vol. 38.
No. 3.
[12] GB. Annual Report Ranging 2005-15.
[13] Govt. of Bangladesh. (2004). Bangladesh economic
review. Dhaka: Ministry of Finance.
[14] Hamid, M. A. (2001). The role of Islamic bank in the
development of small entrepreneurs: An empirical investigation.
Dhaka: DarulIhsan University.
[15] Hossain, K. and Alamgir, D. A. H. (2000). Micro financial
services and poverty alleviation in Bangladesh: A comparative
analysis of secular and Islamic NGOs. Paper presented at the
Fourth International Conference on Islamic Economic and
Banking, UK: Loughborough University.
[16] Hossain, M. (1983). Credit program for the landless:
The experience of Grameen Bank project. Dhaka: Grameen
Bank.
[17] Hulme, D. and Mosley, P. (1996). Finance against
poverty, Volumes 1 and 2. London: Rutledge.
[18] IBBL. Annual Reports Ranging 2005-15
[19] Rahaman A. H. M. H. (1996). Promoting entrepreneurship
through micro enterprise development in Bangladesh. Paper
Presented National Seminar on Management Challenges
by the Year 2000 and Beyond: Bangladesh Perspective
Organized by Association Management Development
Institution of Bangladesh. Dhaka University: IBA.
[20] Rahman, A. H. M. H. (1986). Credit finance for and
cottage industries: A comparative study of credit program.
The Dhaka University Studies (part C). Vol.- vii. No.- 2.
[21] Rahman, H. Z. (1993). Rural poverty update. Dhaka:
Bangladesh Institute of Development Studies.
[22] Rahman, M and Naznin, N. (2000). Role of BRAC for
poverty alleviation of the rural women in Bangladesh: A
study. The Islamic University Studies.Vol. 3. No. 2..
[23] UN Secretary General. (1997). Role of microcredit in the
eradication of poverty. Report presented in General Assembly.
Resolution # 52/194 of 18. December 1997.
[24] Retrieved 31 December 2012. www. Islamic banking.
com.
[25] www.grameen bank.com. Retrieved 31 December
2012.
[26] Yusuf ali. A. Al Quran. Sura Al-Baqarah. Verses No.
273, 275, 278, 279.
[27] Yusuf ali. A. Al Quran. Surah At-Taubah. Verses No.
53 & 54 and Al-Maidah. Verse 27.
[28] Yunus, M. (1983). Group based savings and credit for the
rural poor. Dhaka: Grameen Bank.
[29] Yunus, M. (2000). How donor funds could better reach
and support grassroots microcredit programs: Working
towards the microcredit summit's goal and core themes.
The Bangladesh Development Studies. Vol. XXVI. No. 2 & 3.
[30] Yunus, M. (January 8 & 9, 2003). Expanding micro- credit
outreach to reach the millennium development goal: Some issues
for attention. Seminar paper presented to the international
seminar on Attacking poverty with Micro-credit Arranged
by PKSF. Dhaka: PKSF.
[31] Zaman, H. (2001). Assessing the poverty and vulnerability
impact of micro-credit in Bangladesh: A case study of BRAC.
World Bank Policy Research Working Paper No. 2445.
Washington D.C: World Bank.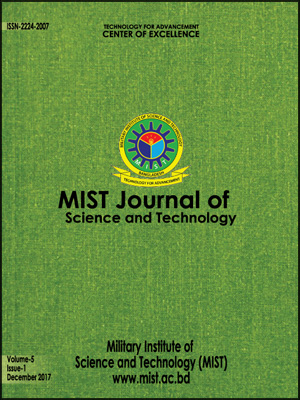 How to Cite
Dr. Md. Ferdausur Rahman. (2019). PROBLEMS AND PROSPECTS OF MICRO FINANCING IN BANGLADESH: A COMPARATIVE STUDY BETWEEN ISLAMI BANK BANGLADESH LIMITED AND GRAMEEN BANK. MIST INTERNATIONAL JOURNAL OF SCIENCE AND TECHNOLOGY, 5(1). https://doi.org/10.47981/j.mijst.05(01)2017.119(%p)
Though MIJST follows the open access policy, the journal holds the copyright of each published items.

This work is licensed under a Creative Commons Attribution-NonCommercial 4.0 International License.