INTERFACE DEPENDENCY OF REINFORCED CONCRETE JACKETING FOR COLUMN STRENGTHENING
K. Sakil Ahmed

MIST

Riaz Mahmud

MIST
Keywords:
Column Jacketing; Interface bonding; Analytical equation, Interaction diagram; Finite element analysis
Abstract
This paper investigates the structural capacity enhancement of reinforced concrete column by concrete jacketing.
In view of investigating structural capacity and integrity of jacketed column, a total twelve retrofitted column
samples with different jacket thickness were experimentally tested. Samples are prepared with different types of
interface including no surface treatment, addition of bonding chemical, roughening of old surface, application
of welded ties, and changes in clear cover to investigate the influence of interface bonding between new and old
concrete. Analytical equations for jacketed columns are formulated as per elastic principle maintaining strain
compatibility at the interface in addition to concrete modeling using finite element method (FEM). Column
interaction diagrams as formed by analytical equations are compared and verified with existing Japanese code
and available FE software packages. Experimental investigation shows that failures occur relatively earlier
at the column interface than the core of the retrofitted column. Comparative study in terms of interaction
diagram shows that experimental result well agrees with the computed analytical result but deviates from the
FE analysis. Finally, an interface bonding reduction coefficient in the range of 0.65-0.88 is proposed for RC
jacketed column subjected to different types of interface.
Downloads
Download data is not yet available.
References
[1] Belal MF, Mohamed HM, Morad SA (2015) Behavior
of reinforced concrete columns strengthened by steel
jacket HBRC Journal 11:201-212 doi:http://dx.doi.
org/10.1016/j.hbrcj.2014.05.002
[2] Brownjohn JMW, Xia P-Q, Hao H, Xia Y (2001) Civil
structure condition assessment by FE model updating::
methodology and case studies Finite Elements in Analysis
and Design 37:761-775 doi:http://dx.doi.org/10.1016/
S0168-874X(00)00071-8
[3] Buyukozturk O, Gunes O, Karaca E (2004) Progress on
understanding debonding problems in reinforced concrete
and steel members strengthened using FRP composites
Construction and Building Materials 18:9-19
[4] Chen JF, Teng J (2001) Anchorage strength models
for FRP and steel plates bonded to concrete Journal of
Structural Engineering 127:784-791
[5] Hassan T, Rizkalla S (2003) Investigation of bond
in concrete structures strengthened with near surface
mounted carbon fiber reinforced polymer strips Journal of
composites for construction 7:248-257
[6] Karayannis CG, Sirkelis GM (2008) Strengthening and
rehabilitation of RC beam–column joints using carbon-FRP
jacketing and epoxy resin injection Earthquake Engineering
& Structural Dynamics 37:769-790 doi:10.1002/eqe.785
[7] Malek AM (1998) Ultimate shear capacity of reinforced
concrete beams strengthened with web-bonded fiberreinforced
plastic plates ACI Structural Journal 95:391-399
Mander JB, Priestley MJN, Park R (1988) Theoretical
Stress-Strain Model for Confined Concrete doi:10.1061/
(ASCE)0733-9445(1988)114:8(1804)
[8] Mirmiran A, Shahawy M, Samaan M, Echary HE,
Mastrapa JC, Pico O (1998) Effect of column parameters
on FRP-confined concrete Journal of Composites for
Construction 2:175-185
[9] Rodriguez M, Park R Seismic Load Tests on Reinforced
Concrete Columns Strengthened by Jacketing Structural
Journal 91 doi:10.14359/4593
[10] Saatcioglu M, Razvi SR (1992) Strength and ductility
of confined concrete Journal of Structural engineering
118:1590-1607
[11] Sheikh SA, DeRose D, Mardukhi J (2002) Retrofitting
of concrete structures for shear and flexure with fiberreinforced
polymers ACI Structural Journal 99:451-459
[12] Smith ST, Teng J (2002) FRP-strengthened RC beams.
I: review of debonding strength models Engineering
structures 24:385-395
[13] Wu Y-F, Liu T, Oehlers DJ (2006) Fundamental
Principles That Govern Retrofitting of Reinforced Concrete
Columns by Steel and FRP Jacketing Advances in Structural
Engineering 9:507-533 doi:10.1260/136943306778812769
[14] Xiao J, Li W, Fan Y, Huang X (2012) An overview
of study on recycled aggregate concrete in China (1996–
2011) Construction and Building Materials 31:364-383
doi:http://dx.doi.org/10.1016/j.conbuildmat.2011.12.074
[15] Xiao Y, Ma R (1997) Seismic retrofit of RC circular
columns using prefabricated composite jacketing Journal
of structural engineering 123:1357-1364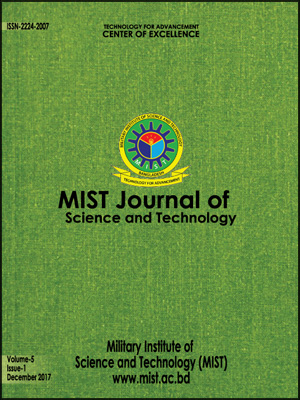 How to Cite
K. Sakil Ahmed, & Riaz Mahmud. (2019). INTERFACE DEPENDENCY OF REINFORCED CONCRETE JACKETING FOR COLUMN STRENGTHENING. MIST INTERNATIONAL JOURNAL OF SCIENCE AND TECHNOLOGY, 5(1). https://doi.org/10.47981/j.mijst.05(01)2017.128(%p)
Though MIJST follows the open access policy, the journal holds the copyright of each published items.

This work is licensed under a Creative Commons Attribution-NonCommercial 4.0 International License.