ASSESSMENT OF SOIL COMPACTION–A PROJECT STUDY
Brig Gen Md Gazi Ferooz Rahman

MIST

Major M. D. H. Talukder

MIST

Major A. H. M. M. Rahman

MIST
Keywords:
Compaction, porosity, density, Unit Weight
Abstract
Soil compaction is one of the most important aspects of any earthwork construction. Compaction improves the engineering
properties of the fills. Nearly all compaction specifications are based on achieving a certain value of dry unit weight (γd). During
construction, the geotechnical engineers measure the unit weight of compacted soil in the field to verify the contractor's
compliance with the requirement. This paper is a project study of road construction project "Road Zia Colony to Mirpur
Cantonment". Soil samples were collected from five different locations. In situ dry density was obtained by Sand Cone Test from
each location. The laboratory tests (Standard Proctor Test) were carried out to find out the dry density for each sample. The
maximum dry density in relation to moisture content was obtained. Relative compaction (CR) of soil at each location was then
calculated to the soil compaction of the said road project.
Downloads
Download data is not yet available.
References
[1] Compaction Handbook, 2008. "Soil Compaction –Soil Types, Methods, and Compaction techniques".

[2] Compaction Handbook, 2008. Volume II, Chapter IV.

[3] Craul, P., 1994. Soil compaction on heavily used sites. J. Arboric. 20(2):69–74.

[4] Coduto Donald P., 2003. Geotechnical Engineering - Principles and Practices.

[5] Google pages. Soil Compaction - Causes, Effects, and Control.

[6] Harris W.L., 1971. The soil compaction process. In Barnes, K.K. (Ed.). Compaction of Agricultural Soils. An ASAE Monograph. American Society of Agricultural Engineers, St. Joseph, MI. 471 pp.

[7] Hakansson I., 1985. Soil compaction research in Sweden. Proc. of Soil Compaction Conf. Ohio State University. Columbus, OH. April 1985.

[8] Jones, A.J., R.A. Wiese and E.C. Dickey., 1999. Management strategies to minimize and reduce soil compaction. University of Nebraska, G89-896-A.

[9] Larson, W.E., W.G. Lovely, and V.C. Jamison., 1961. Subsoiling doesn't pay in the Minnesota, 2007.

[10] Minnesota, 2007. Compaction-Soil Management Series 2. University of Minnesota Extension Service, BU-7400

[11] Thesis Paper, 2002. Thesis paper on subsoil investigation and geotechnical design, submitted by Maj Md Anwaruddin, Maj Mohiuddin Ahmed, Capt
MM Moazzem Hossain

[12] Wikipedia, 2008, en.wikipedia.org/wiki/Soil compaction.

[13] geotech.uta. http://geotech.uta.edu/lab/Main/SandCone

[14] geotech.org, www.geotech.org\various pages of construction project.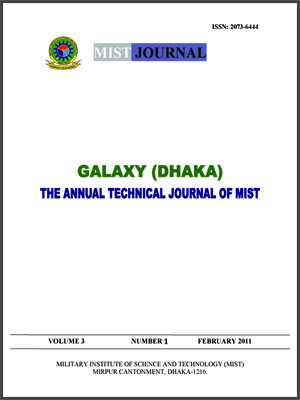 How to Cite
Brig Gen Md Gazi Ferooz Rahman, Major M. D. H. Talukder, & Major A. H. M. M. Rahman. (2019). ASSESSMENT OF SOIL COMPACTION–A PROJECT STUDY. MIST INTERNATIONAL JOURNAL OF SCIENCE AND TECHNOLOGY, 3(1). https://doi.org/10.47981/j.mijst.03(01)2011.17(%p)
Though MIJST follows the open access policy, the journal holds the copyright of each published items.

This work is licensed under a Creative Commons Attribution-NonCommercial 4.0 International License.