CHALLENGES OF GLOBALIZATION: HOW BANGLADESH CAN ADAPT ITSELF TO REAP THE BEST BENEFITS IN THE 21ST CENTURY
Lt Colonel Sharif Md Abul Hussain

BUP
Keywords:
Benefit, Environment, Globalization, Governance, Infrastructure, Poverty, Population, Policy, Political stability, Resource
Abstract
The study investigates specific information regarding the challenges of globalization faced by Bangladesh and how it should
prepare itself to coup with the challenges. The result suggest that Bangladesh is not in comfort in coping with the winds of
globalization, as it has less access to and use of different opportunities living at the margin in the hierarchies of global order with
low technological base, poor infrastructures and governance in most arenas. The study also suggest that Bangladesh needs to be
engaged with all its development partners in a healthy and constructive process of interaction on stabilization, reform programme
and other critical issues like national capacity building, competitiveness, political stability, cross border terrorism, arms and drug
trafficking, climate change and environmental degradation. The policy implication is that various economic policy orientation and
utilization of resources should be as such that they can supplement economic growth in a sustainable manner and create avenues
for employment.
Downloads
Download data is not yet available.
References
[1] Baker, Dean et al, "Globalization and Progressive Economic Policy", Cambridge University Press, UK, 1998.

[2] Khan A R, "Globalization and Non-traditional Security in South Asia" Rgional Centre of Str4ategic Studies, Colombo, pp 88-273, 2001.

[3] Scholte, Jan Arta, "Globalization: A Critical Introduction", Mac-Millan Press Ltd, London, 2000.

[4] Bazlul Haque and et el, "The Era of Globalization and Emerging Issue: Challenges and Plolicy Options for Bangladesh", Volume XIV, Number II, p 107 (Science Review), December, 1998.

[5] Nayyar, Deepak, 2000, 'Gloalization and Development Strategies', UNCTAD Discussion Paper X, 2/OO.

[6] Nicholas Crafts, "Globalization and Growth in the Twentieth Century", IMF Working Paper, WP/00/44, Washington DC, April 2000.

[7] Centre for Policy Study, " Independent Review of Bangladesh Development", Volume II page 135, University Press Limited, 1991.

[8] Chowdhury, Toufic A, and Raihan, Ananya, " Implications of WTO on the Banking and Financial sector of Bangladesh", (Unpublished research report). BIBM, Dhaka, 1999.

[9] Dr. Ataur Rahman, " The Concept of Globalization", The Daily Star (Dhakja), January 29, 1999.

[10] M A Muhit, "Bangladesh in the twenty First Century" University Press Limited, p 112, 2003.

[11] Ruksana Kibria, "Globalization and Bangladesh's Security and Foreign Policies", Internet Eddition;2002.

[12] R Sohan and M Ahmed " Public Enterprise in and intermidiate Regime; A study in Political Economy of Bangladesh", BIDS, Dhaka, 2004.

[13] World Bank, " Private Capital Flows in Developing Countries", Oxford University Press, pp 9- 13, 1997.

[14] "Globalization and Engineers of Developing Countries", The Daily Star, January 16, 2003.

[15] Rehman Sobhan, Interview with Sabir Mustafa, " The Daily Star" March 3, 2002.

[16] "Some Effects of Globalization", The Bangladesh Observer, January 23, 2001.

[17] Asian Development Outlook 2001 – Part III Asia's Globalization Challenge – ADB org.htm.

[18] Centre for Plicy Dialogue " The Daily Star (Dhaka)", March 15, 2004.

[19] http://www.GlobalEnvision.org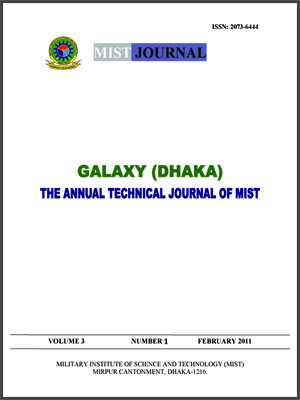 How to Cite
Lt Colonel Sharif Md Abul Hussain. (2019). CHALLENGES OF GLOBALIZATION: HOW BANGLADESH CAN ADAPT ITSELF TO REAP THE BEST BENEFITS IN THE 21ST CENTURY. MIST INTERNATIONAL JOURNAL OF SCIENCE AND TECHNOLOGY, 3(1). https://doi.org/10.47981/j.mijst.03(01)2011.23(%p)
Though MIJST follows the open access policy, the journal holds the copyright of each published items.

This work is licensed under a Creative Commons Attribution-NonCommercial 4.0 International License.