VIRTUAL POWER PLANT AS A REMEDY TO THE POWER CRISIS OF BANGLADESH: A CASE STUDY-CUET
C. K. Das

CUET

N. K. Das

CUET

M. M. Islam

CUET

S.M. Sazzad Hossain

CUET
Keywords:
VPP, MATLAB, DG, CUET, MCCB, DER, LDC
Abstract
A virtual power plant is a cluster of distributed generation installations (such as microchip, wind-turbines, small hydro, back-up
genets etc.) which are collectively run by a central control entity. The concerted operational mode shall result in an extra benefit as
to deliver peak load electricity or load following power at short notice. Bangladesh is facing acute power crisis like other
developing countries. As we have limited resources we have to think economically.VPP is playing good role in European &
American market. So we have taken VPP as a solution for power crisis. In this thesis, we have taken CUET as a reference model.
To solve the power crisis in CUET & to supply power to the main grid a small virtual power plant is designed .Whole CUET is
divided into three regions for designing purpose. By using MATLAB simulink environment machine characteristic curves are
derived & cost is calculated.
Downloads
Download data is not yet available.
References
[1] Morten Decker: "Analysis and Design of an SOA for Virtual Power Plant" , s011921 Kongens Lyngby 2008, page 4-5

[2] VPP concept, available at: http://www.newscientist.com/article/dn17290-virtualpower-plants-could-tame-coming-grid-chaos.html

[3] Sameer Shailesh Mundkur: "Design and implementation of a Digital Controller for High Power Converters",North CarolinaState University Raleigh, North Carolina 2008 page 13-15.

[4] SCADA, available at: http://en.wikipedia.org/wiki/SCADA

[5] Ashfaq Hussain: "Electrical Power Systems" 4th edition page:177

[6] "Distributed Generation Architecture and Control", available at: http://www.rand.org/scitech/stpi/Evision/Supplement/sonderegger.pdf

[7] Stephen J. Chapman: "Electric machinery Fundamentals", 4th edition, page: 308-314.

[8] "Virtual power plant: basic requirements & experience in practice", available at: www.ptius.com/pti/company/enewsletter/.../Virtual%2 0Power%20Plants.pdf

[9] Virtual power plant feasibility study: Federation of Canadian Municipalities, Final Report March 31st, 2006. page 28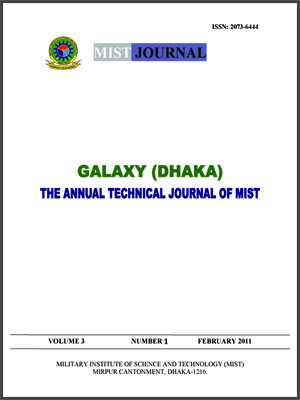 How to Cite
C. K. Das, N. K. Das, M. M. Islam, & S.M. Sazzad Hossain. (2019). VIRTUAL POWER PLANT AS A REMEDY TO THE POWER CRISIS OF BANGLADESH: A CASE STUDY-CUET. MIST INTERNATIONAL JOURNAL OF SCIENCE AND TECHNOLOGY, 3(1). https://doi.org/10.47981/j.mijst.03(01)2011.25(%p)
Though MIJST follows the open access policy, the journal holds the copyright of each published items.

This work is licensed under a Creative Commons Attribution-NonCommercial 4.0 International License.