MODELING OF PHOTOELASTIC CONSTANT DEPENDENT ON ARBITRARY CRYSTAL ORIENTATION
Lubna Jahan Rashid Pinky

IUBAT

Abu Naim Rakib Ahmed

KUET
Keywords:
Photoelastic constant, polycrystalline silicon, tensor rotation, crystal orientation, scanning infrared Polariscope method
Abstract
A mathematical model is proposed to determine the photoelastic constants in arbitrary crystal orientation of Zincblende crystal
structure. Tensor rotation technique is applied using Euler's rotation theorem to develop the model. The model is applicable to
evaluate photoelastic constants in terms of P11-P12 and P44 in any crystal plane by controlling the rotation angle using the model.
P11-P12 and P44 are calculated for Silicon crystal and found that the values of these constants are strongly dependent on crystal
orientations. The outcome of this research enables us to evaluate quantitative amount of strain in polycrystalline silicon material
(solar cell material) using Scanning Infrared Polariscope.
Downloads
Download data is not yet available.
References
[1] M. Yamada, Quantitative photoelastic characterization of residual strains in LEC-grown indium phosphide (100) wafers, Proc. Of 5th Int. Conf. on InP and Related Materials, Paris France, IEEE Cat. #93CH3276-3, pp. 69-72, (1993)

[2] Henderson R.H. & E. Towe, Journal of applied physics 79 (4), 15 February 1996.

[3] "Euler's Rotation Theorem", http://mathword.wolfram.com/Euler Angles.html

[4] T. S. Narasimhamutry, Photoelastic and Electro-Optic Properties of Crystals, Plenum press New York.

[5] Jun Chen, Bin Chen, Takashi Sekiguchi, masayuki Fukuzawa and Masayoki Yamada, Applied Physics Letters 93, 112105 (2008).

[6] Atsuko Niwa, Tsukuru Ohtoshi and Takao Kuroda, "Orientation Dependence of Optical Properties in Long Wavelength Electrical Electronic and Engineering Department Strained Quantum-Well Lasers", IEEE journal of selected topics in quantum electronics, Vol. 1, No. 2, June 1995.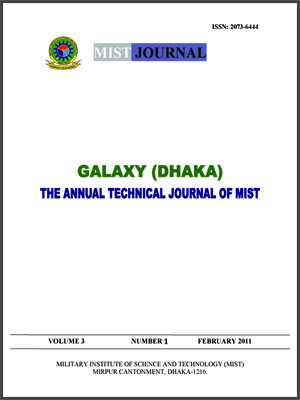 How to Cite
Lubna Jahan Rashid Pinky, & Abu Naim Rakib Ahmed. (2019). MODELING OF PHOTOELASTIC CONSTANT DEPENDENT ON ARBITRARY CRYSTAL ORIENTATION. MIST INTERNATIONAL JOURNAL OF SCIENCE AND TECHNOLOGY, 3(1). https://doi.org/10.47981/j.mijst.03(01)2011.26(%p)
Though MIJST follows the open access policy, the journal holds the copyright of each published items.

This work is licensed under a Creative Commons Attribution-NonCommercial 4.0 International License.