COMPARISON OF RADAR SNR PERFORMANCE OVER SAME RANGE FOR VARIOUS SHAPED TARGET OBJECTS
Wg Cdr Dr Md Hossam-E-Haider

MIST
Keywords:
Radar Cross Section (RCS), Signal to noise ratio (SNR), Aspect angle and Backscattered RCS
Abstract
For a more precise detection of an object by radar, it is important to understand the significance of RCS prediction. Accurate prediction of RCS is critical in order to design and develop robust discrimination algorithms. This paper proposes the significance of RCS in radar performance by demonstrating the SNR performance of radar for some particular shaped objects. In this study we derived and simulated the RCS equation for various shaped object and thus presented an overall comparison of SNR variation for change in target shape. From simulation result it is revealed that for a large RCS, at constant range the radar gives better SNR performance.
Downloads
Download data is not yet available.
References
[1] Skolnik, M. I, "Introduction to Radar Systems", 3rd edition, McGraw-Hill Publishing Company, New York, 2008.
[2] Mahafza, Bassem. R, "Radar System Analysis and Design", Chapman & Hall/CRC, 2000.
[3] Tait, P,"Introduction to Radar Target Recognition", The Institution of Engineering and Technology, 2005.
[4] Shirman, Yakov. D, "Computer Simulation of Aerial Target, Radar Scattering, Recognition, Detection and Tracking", Artech house, Inc, 2002.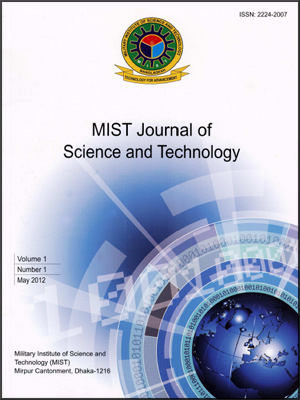 How to Cite
Wg Cdr Dr Md Hossam-E-Haider. (2019). COMPARISON OF RADAR SNR PERFORMANCE OVER SAME RANGE FOR VARIOUS SHAPED TARGET OBJECTS. MIST INTERNATIONAL JOURNAL OF SCIENCE AND TECHNOLOGY, 1(1). https://doi.org/10.47981/j.mijst.01(01)2012.29(%p)
Though MIJST follows the open access policy, the journal holds the copyright of each published items.

This work is licensed under a Creative Commons Attribution-NonCommercial 4.0 International License.