FINENESS OF INDIGENOUS CEMENTS OF BANGLADESH AND ITS EFFECTS ON INITIAL AND FINAL SETTINGS
Brigadier General Md Gazi Ferooz Rahman

MIST

Md. Shamsuddoha

MIST
Keywords:
Fineness, curing, hydration, gradation, setting time, consistency, cracks
Abstract
Cement is the most common construction materials. It is expected that finer cement provides larger surface area for hydration thus sets early. But, due to other contents like fillers, gypsum etc. this phenomenon can be different. Non-structural cracks usually form on a mortar-plastered surface due to a number of different causes. Bangladesh being a developing country, construction industries are booming in the recent years. Thus, cement property tests have become an important quality control measure for concrete production. This paper will provide guidance to ensure cement quality by observing the general value of fineness of local cement brands and effect of fineness on consistency, initial and final setting times. Cracks developed on plastered surfaces under different curing conditions are also studied. It is found that consistency increases with increased fineness whereas setting times decreases. Insufficient curing leads to more cracks than prolonged curing (up to 7 days) aided low crack formation. Results suggested requirement of extended curing for at least 7 days and more.
Downloads
Download data is not yet available.
References
[1] Alexander, K. M., (1972). "The relationship between strength and the composition and fineness of cement." Cement and Concrete Research, Vol-2, Issue-6, 663-680.
[2] Colina H. and Acker P., (2000). "Drying cracks: Kinematics and scale laws." Materials and Structures, RILEM, Vol. 33, 101-107.
[3] Colina, H. and Nelson, E., (1998). "Final Report of 581 Research Project", Research Council of the National University of Salta, Argentine.
[4] Higginson, E. C., (1970). "The effect of cement fineness on concrete." Fineness of Cement, ASTM STP 473. American Society for Testing and Materials, 71-81.
[5] Neville, A. M., (2000). "Properties of Concrete." Fourth and Final ed. Indian reprint. India: Thomson (India).
[6] Whittman F. H., (2002). "Crack formation and fracture energy of normal and high strength concrete." Sadhana, India, Vol-27, Part-4, 413–423.
[7] Zhongzi X., (1986). "Influence of particle size distribution on hydration of cement." Journal of the Chinese Ceramic Society, Vol-1, Issue-7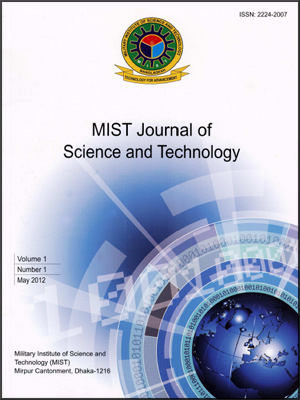 How to Cite
Brigadier General Md Gazi Ferooz Rahman, & Md. Shamsuddoha. (2019). FINENESS OF INDIGENOUS CEMENTS OF BANGLADESH AND ITS EFFECTS ON INITIAL AND FINAL SETTINGS. MIST INTERNATIONAL JOURNAL OF SCIENCE AND TECHNOLOGY, 1(1). https://doi.org/10.47981/j.mijst.01(01)2012.30(%p)
Though MIJST follows the open access policy, the journal holds the copyright of each published items.

This work is licensed under a Creative Commons Attribution-NonCommercial 4.0 International License.