TOGETHER WE GROW….. In the limitless sky
Gp Capt Md Abdus Salam

MIST

Gp Capt NC Chattopadhyay

MIST
Keywords:
Concurrent needs, booming Industry, unlimited scope, synergy, lateral dialogue, national slogan
Abstract
From the beginning of twentieth century, aviation has witnessed sea changes due to advent of technology, change in military doctrine, socio-economic changes and change in perspective of human needs. Military and commercial aviation have taken new dimensions commensurate to the changes. This is an ever growing field and advanced countries have reaped the benefits of the same. It is time for the developing nations to harness the growing field for a sustained progress on socio – economic development. The present paper is focused towards this direction.
Downloads
Download data is not yet available.
References
[1] Open internet sources on growth of Aviation
[2] Daily news papers on economy and aviation outlook
[3] Aviation week (weekly aviation magazine)
[4] www.wikipedia.org
[5] www.bdmilitary.com
[6] http://www.aviationweek.com/ shownews/02asia1/mro07.htm
[7] http://www.asianaerospace.com/ en/The_Congress/congress_programme_and_booking.html
[8] http://www.aviationnow.com.cn/ WEBVIEWS/qikan/AM&E-english.pdf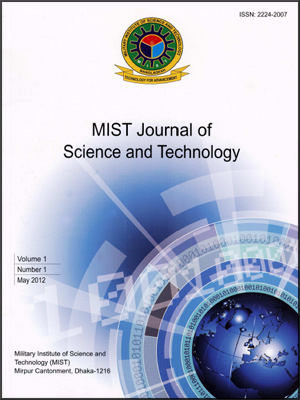 How to Cite
Gp Capt Md Abdus Salam, & Gp Capt NC Chattopadhyay. (2019). TOGETHER WE GROW…. In the limitless sky. MIST INTERNATIONAL JOURNAL OF SCIENCE AND TECHNOLOGY, 1(1). https://doi.org/10.47981/j.mijst.01(01)2012.31(%p)
Though MIJST follows the open access policy, the journal holds the copyright of each published items.

This work is licensed under a Creative Commons Attribution-NonCommercial 4.0 International License.