NONLINEAR FINITE ELEMENT ANALYSIS OF REINFORCED CONCRETE PLATES IN PUNCHING SHEAR
Ahsanul Kabir

BUET

Colonel DSM Shahddeul Islam

MIST
Keywords:
Punching Shear, Nonlinear Analysis, Finite Element Analysis, Reinforced Concrete, Flat plate, 3-Dimension Compression steel.
Abstract
This is an attempt to carry out nonlinear analysis of reinforced concrete flat plates using 3 D-Brick elements in combination with Link elements. A 3-dimensional reinforced concrete flat plate model is generated. The formulation has been checked against experimental results of tests on slabs subjected to punching shear. From a comparison of the numerical and the experimental results, it is concluded that the generated model by the Finite Element Analysis package ANSYS is capable of analysing reinforced concrete plates with significant degree of accuracy. A few parametric studies has also been undertaken to determine the behaviour of plates with and without shear reinforcements and/or compression reinforcement.
Downloads
Download data is not yet available.
References
[1] ACI 318(1999), "Building Code Requirements for Reinforced Concrete," American Concrete Institute, Farmington Hills, Michigan.
[2] ANSYS, ANSYS version 5.4 Manual Set (1997), ANSYS Inc., Southpointe, 275 Technology Drive, Canonsburg, PA 15317, USA.
[3] Aghayere, A. O. and MacGregor, J. G. (1990), "Analysis of Concrete Plates Under Combined In Plane and Transverse Loads", ACI Structural Journal, Vol. 87, No.5, pp.539-547.
[4] Broms, C. E. (2000), "Elimination of Flat Plate Punching Failure Mode", ACI Structural Journal, Vol. 97, No.1, pp. 94-101.
[5] Desayi, P. and Krishnan, S., "Equation for the Stress-Strain Curve of Concrete," Journal of the American Concrete Institute, 61, pp. 345-350, March 1964.
[6] Elgabry, A. A. and Ghali, A. (1990), "Design of Stud-Shear Reinforcement for Slabs", ACI Structural Journal, Vol. 87, No. 3, pp. 350-361.
[7] Elstner, R. C. and Hognestad, E. (1956), "Shearing Strength of Reinforced Concrete Slabs", ACI Structural Journal, Vol. 28, No. 1, pp.29-58.
[8] Gere, J. M. and Timoshenko, S. P., Mechanics of Materials, PWS Publishing Company, Boston, Massachusetts, 1997.
[9] Harmon, T. G. and Zhangyuan, N. (1989), "Shear Strength of Reinforced Concrete Plates and shells Determined by Finite Element Analysis Using Layered Elements", ASCE Journal of Structural Engineering, Vol.115,No.5,pp.1141-1157.
[10] Loo, Y.C. and Falamaki, M. (1992), "Punching Shear Strength Analysis of Reinforced Concrete Flat Plates with Spandrel Beams", ACI Structural Journal, Vol. 89, No.4, pp. 375-383.
[11] Loo, Y.C., and Guan, H. (1997), "Cracking and Punching Shear Failure Analysis of RC Flat Plates" ASCE Journal of Structural Engineering, Vol. 123, No.10, pp. 1321-1330.
[12] Olivera, D.R., Milo, G. S. and Regan, P. E. (2000), "Punching Strengths of Flat Plates with Vertical or Inclined Stirrups", ACI Structural Journal, Vol. 97, No.3, pp.485-491.
[13] Pilakoutas, K. and Li, X. (2003), " Alternative Shear Strengthening of Reinforced Concrete Flat Slabs", ASCE Journal of structural Engineering, Vol. 129, No. 9, pp.1164-1172.
[14] Polak, M.A. (1998), "Modeling Punching Shear of Reinforced Concrete Slabs using Layered Finite Elements", ACI Structural Journal, Vol. 95, No.1, pp. 71-80.
[15] Yamada, T., Nanni, A. and Endo, K. (1992), "Punching Shear Resistance of Flat Slabs: Influence of Reinforcement Type and Ratio", ACI Structural Journal, Vol. 88, No. 4, pp.555-563.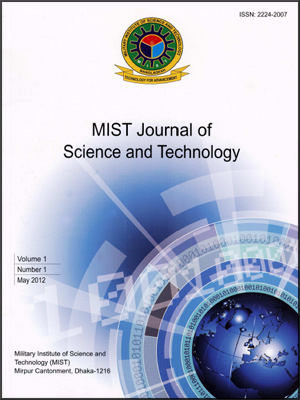 How to Cite
Ahsanul Kabir, & Colonel DSM Shahddeul Islam. (2019). NONLINEAR FINITE ELEMENT ANALYSIS OF REINFORCED CONCRETE PLATES IN PUNCHING SHEAR. MIST INTERNATIONAL JOURNAL OF SCIENCE AND TECHNOLOGY, 1(1). https://doi.org/10.47981/j.mijst.01(01)2012.32(%p)
Though MIJST follows the open access policy, the journal holds the copyright of each published items.

This work is licensed under a Creative Commons Attribution-NonCommercial 4.0 International License.