CFD SIMULATION OF FLOW AROUND 3D SUBMARINE SHAPED BODY
M. Sharif Khan

MIST

Md. Mahbubar Rahman

MIST

Md. Mashud Karim

BUET
Keywords:
Computational Fluid Dynamics (CFD), Hull Form Optimization, Numerical Simulation, Underwater Vehicle, Turbulence Model, 3D Submarine Shape
Abstract
Drag estimation and shape optimization of submarine shaped hulls are important for energy efficiency and hull form
improvement. In this study, fluid flow around the 3D DREA bare submarine hull is simulated with the help of finite
volume method. Widely implemented Reynolds-averaged Navier-Stokes (RANS) approach and SST k-ω turbulence
model with low-Re version are used to represent turbulent transport equations. Computed results are compared with
experimental results as well as simulated results of other researchers and found satisfactory. The velocity distribution
(vectors, contours and streamlines), pressure distribution and drag coefficient are also analyzed. The result of this
study illustrated the flow physics around 3D submarine shaped hull which might be helpful for improvement of design
of such underwater bodies.
Downloads
Download data is not yet available.
References
[1] V. C. Patel and H. C. Chen, Flow over tail and in wake of
axisymmetric bodies: review of the state of the art, Journal of Ship
Research, Vol. 30, No. 3, pp. 202-314 (1986).
[2] S. K. Choi and C. J. Chen, Laminar and turbulent flows past two
dimensional and axisymmetric bodies, Iowa Institute of Hydraulic
Research, IIHR Report 334-II (1990).
[3] T. Sarkar, P. G. Sayer, S. M. Fraser, A study of autonomous
underwater vehicle hull forms using computational fluid dynamics,
International Journal for Numerical Methods in Fluids, Vol. 25, pp.
1301-1313 (1997).
[4] C. K. G. Lam and K. Bremhorst, A modified form of the k-ε
model for predicting all turbulence, ASME Journal Fluid Engineering,
Vo.103, pp. 456 (1981).
[5] M. M. Karim, M. M. Rahman and M. A. Alim, Numerical
computation of viscous drag for axisymmetric underwater vehicles,
JurnalMekanikal, 26, 9-21 (2008).
[6] M. M. Karim, M. M. Rahman and M. A. Alim, Effectiveness of
two-equation Eddy-Viscosity turbulence models for calculation of
flow over underwater bodies of revolution, Southeast University
Journal of Science and Engineering, Vol. 2, No.2 (2008).
[7] M. M. Karim, M. M. Rahman and M. A. Alim, Computation of
turbulent viscous flow around submarine hull using unstructured grid,
Journal of Ship Technology, ISSN: 0973-1423, Vol. 5, No. 1, pp.
38-52 (2009).
[8] M. M. Karim, M. M. Rahman and M. A. Alim, Performance of SST
k-ω turbulence model for computation of viscous drag of axisymmetric
underwater bodies, IJE Transactions B: application, Vol. 24, No. 2,
139-146 (2011).
[9] H. K. Versteeg and W. Malalasekara, An Introduction to
Computational Fluid Dynamics- The Finite Volume Method, Longman
Scientific & Technical, England (1995).
[10] J. Anderson, Computational Fluid Dynamics, McGraw-Hill, Inc.,
New York, 1995.
[11] C. Baker, Estimating Drag Force on Submarine Hulls, Contract
Report, DRDC Atlantic CR 2004-125, Canada, (2004).
[12] M. Mackay, Flow visualization experiments with submarine
models in a wind tunnel, Defence Research Establishment Atlantic,
Canada (1988).
[13] ANSYS Fluent Theory Guide, Release 15.0, ANSYS, Inc.,
Canonsburg (2013).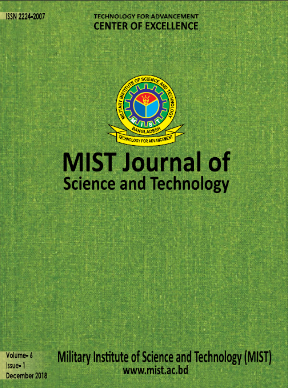 How to Cite
M. Sharif Khan, Md. Mahbubar Rahman, & Md. Mashud Karim. (2019). CFD SIMULATION OF FLOW AROUND 3D SUBMARINE SHAPED BODY. MIST INTERNATIONAL JOURNAL OF SCIENCE AND TECHNOLOGY, 6(1). https://doi.org/10.47981/j.mijst.06(01)2018.58(%p)
Though MIJST follows the open access policy, the journal holds the copyright of each published items.

This work is licensed under a Creative Commons Attribution-NonCommercial 4.0 International License.