JET NOISE MENACE: A REVIEW
Gp Capt Abdus Salam

MIST

Gp.Capt. Nc Chattopadhyay

MIST

Jalal Uddin Rumi

MIST

H.E.M.Zahidullslam Eunus

MIST
Keywords:
Aviation , Engine j~t noise, noise propagation, supersonic aircraft, flight frequency, impacts
Abstract
Aircraft engine jet noise has been a problem since the beginnings of aviation with the introduction of jet-powered
aircraft. The demand of aircraft for transport and combat purpose has largely increased in present times. The
statistics has forecast that aviation is likely to grow over the next 30 years at an average rate of 4.25% per year in
these aircraft; modern technologies are being used where the use of jet engines is inescapable. All types of
engines are generating noise which has negative impact on environment as well as human being. Although
individual aircraft has become quieter over the past 30 years but flight frequencies have increased. High speedy
supersonic aircrafts are also using for military purposes. This paper offers basically an approach to study about
engine jet noise, its sources, causes of jet noise, noise propagation, it's impact and finally trying to find solution to
reduce it. Though it is a vast field in aviation sector, this topic is discussed in brief.
Downloads
Download data is not yet available.
References
[1] -Chap!er 88 (from Volume 2) ,Commercial Engine Noise ,Mike J. Benzakein ,Aerospace Engineering, The
... ~ .
Ohio State University, Columbus, OH, USA.
[2] Pinker, R.A. (1991) A brief review of the source noise technology applicable to fixed-wing military aircraft.
Combat Aircraft Noise, AGARD-CP-S12.
[3] Herkes,W., Nesbitt, E., Callender, B., Janardan, B., Moe, J. and Yu, J. (2007) The Quiet Technology
Demonstrator Program: Static Test of Airplane Noise Reduction Concepts. AIM Paper 2007- 3670.
[4] [5] Jet noise Reduction Technology Development at GE Aircraft Engines, Steven martens, GE aircraft
engines, Cincinnati, Ohio, USA.
[6], [7] Naval Research Advisory Committee, Report on Jet Engine Noise Reduction ,April 2009.
[8] AIAAfAAAF Aircraft Noise and Emissions Reduction, Symposium, May 24-26, 2005, Monterey, California.
[9] ASRC Research and Technology Solutions, Atlantic City Airport, New Jersey.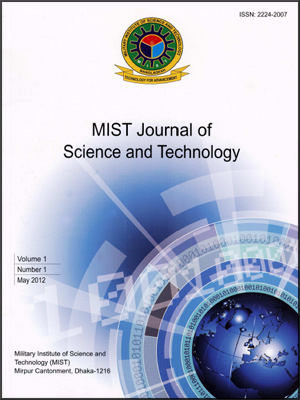 How to Cite
Gp Capt Abdus Salam, Gp.Capt. Nc Chattopadhyay, Jalal Uddin Rumi, & H.E.M.Zahidullslam Eunus. (2019). JET NOISE MENACE: A REVIEW. MIST INTERNATIONAL JOURNAL OF SCIENCE AND TECHNOLOGY, 1(1). https://doi.org/10.47981/j.mijst.01(01)2012.84(%p)
Though MIJST follows the open access policy, the journal holds the copyright of each published items.

This work is licensed under a Creative Commons Attribution-NonCommercial 4.0 International License.