GREEN INFORMATION AND COMMUNICATION TECHNOLOGY (ICT) : A WAY TO ACHIEVE ENVIRONMENTAL SUSTAINABILITY
Gp Capt Md Afzal Hossain

MIST
Keywords:
Carbon footprint, Green IT, eco-sustainability, ICT lifecycle, virtual server, energy efficient PC, Colud computing
Abstract
This paper discusses ideas and concepts of information and communications technologies (lCT) in ecological
sustainability. It provides a preliminary idea about Green IT The paper endeavors to create awareness among the
IT professionals and entrepreneurs for Green IT, and suggests for the actions that they and their .organizations
should undertake. The paper analyses a few case studies and working papers pertaining to the subject and
shows that most IT professionals are concerned about climate change and recognize the dual role of IT in
causing and resolving environmental sustainability problems. More than 70% of IT professionals and
entrepreneurs believe that they can play significant roles in leading Green IT changes. An equal percentage
believe that Green IT should be a core part of an organization's overall environmental sustainability strategy and
IT management should take the responsibility for reducing IT's environmental footprint. Only about 30% of
respondents are aware of ICT policy. IT professionals are either sceptical or unaware of their organization's
commitment to Green IT However, a minority of organizations are taking initial steps in terms of putting green IT
on their agenda, allocating budget and implementing Green IT projects.
Downloads
Download data is not yet available.
References
[1] Harnessing Green IT: Principles and Practices, San Murugesan (http://en.wikipedia.org/wiki/Green_ICT#cite_noteS
an_Murugesan_200B.2C_pp_24-33-0)
[2] Green IT Working Paper No. 2/2009 © Molla, et ai. , 2009, School of BIT, RMIT
[3] http://www.ictliteracy.info/greenict.htm
[4] http://en.wikipedia.org/wiki/Green_computing#cite_note-14
[5] White Paper Green ICT-The Greening of Bu?iness. (T-Systems'.Green ICT)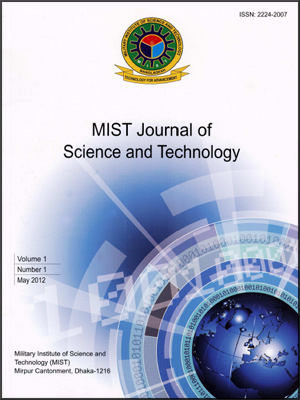 How to Cite
Gp Capt Md Afzal Hossain. (2019). GREEN INFORMATION AND COMMUNICATION TECHNOLOGY (ICT) : A WAY TO ACHIEVE ENVIRONMENTAL SUSTAINABILITY. MIST INTERNATIONAL JOURNAL OF SCIENCE AND TECHNOLOGY, 1(1). https://doi.org/10.47981/j.mijst.01(01)2012.88(%p)
Though MIJST follows the open access policy, the journal holds the copyright of each published items.

This work is licensed under a Creative Commons Attribution-NonCommercial 4.0 International License.