A BRIEF INTERPRETATION OF ACCIDENTS IN BANGLADESH INLAND RIVER ROUTES: (An Approach from Practical Point of View)
Muhammad Rabiul Islam

MIST

Kaosar Rashid

MIST
Keywords:
Capsizing, sinking, form of occurrence, overloading, inclement weather, wind pressure, superstructure volume
Abstract
Inland river transportation, the safest form of transportation in developed countries is the agent of
catastrophe in Bangladesh. Over the past decades there have been a number of launch (passenger ferry)
accidents in which several thousand people met watery graves. Literature review shows that analyses were
carried out mostly from the viewpoint of academic research. To enlighten the roles of professionals like
Naval Architects and Law Enforcing Agencies, the reasons behind the accidents in Bangladesh Inland
Waterways have been simplified and the nature of actions required for preventing the accidents have been
identified from practical point of view. Data analysis of major accidents shows that prevention of passenger
vessels' accident will drastically reduce the number of casualties in Bangladesh Inland Waterways. The two
repeatedly reported causes of accidents are overloading and inclement weather. Analysis shows that
consideration of overloading condition in design will have no effect in practical scenario and consideration
of higher wind pressure in design is not feasible from the socio-economic aspect of Bangladesh. Role of
proper design and construction has been identified by dividing the accidental phenomenon into two phases,
capsizing and sinking of vessels.
Downloads
Download data is not yet available.
References
[1] Baten ASMA, (2004), "Internal Water
Transportation System: Safety of Inland
Passenger Vessels", Individual Research Paper National
Defense College.
[2] Iqbal KS, Bulian G, Hasegawa K,. Karim MM,
Awal ZI, "A (2008), rational analysIs of Intact
stability hazards involving small inland passenger
ferries in Bangladesh", J Mar Sci Technol, Volume
13, Issue 3, pp 270-281.
[3] Iqbal KS, Bulian G, Hasegawa K, Karim MM,
Awal ZI, (2008), "Possible remedies for Intact
stability hazards involving contemporary small
inland passenger ferries in Bangladesh", J Mar SCI
Technol, Volume 13, Issue 3, pp 282-290.
[4] Zulfikar M.M., (2005), "Preventing accidents of
inland ships: Law & Ordinance; Inland Ship
(Stability) Rules 2001 ", (In Bengali), HA
Publishers, Dhaka,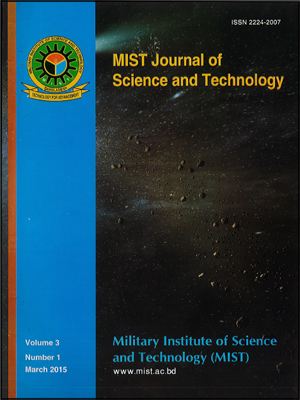 How to Cite
Muhammad Rabiul Islam, & Kaosar Rashid. (2019). A BRIEF INTERPRETATION OF ACCIDENTS IN BANGLADESH INLAND RIVER ROUTES: (An Approach from Practical Point of View). MIST INTERNATIONAL JOURNAL OF SCIENCE AND TECHNOLOGY, 3(1). https://doi.org/10.47981/j.mijst.03(01)2015.103(%p)
Though MIJST follows the open access policy, the journal holds the copyright of each published items.

This work is licensed under a Creative Commons Attribution-NonCommercial 4.0 International License.