EVALUATION OF ENVIRONMENTAL POLLUTION IN BANGLADESH BY INLAND CARGO SHIP OPERATION
Keywords:
Marine Pollution, Cargo Vessel, Bilge, Bilge Water, Solid Waste. Sewage
Abstract
Inland Water Transportation is still considered as the major transportation sector in Bangladesh. Over ten thousand of
different types of registered vessels and thousands of unregistered vessels are plying in inland routes. This sector carries
over 50% of cargo, 80% of fuel-oil and more than one quarter of all passenger traffic per year. River network has
been regarded as safe and cost-effective route of the country, especially in the southern part. The fleet of cargo vessels
has the static capacity of about 1,000,000 tons. The cargo fleet consists of 2,213 registered ships (2,043 cargo vessels
and 170 bay crossing coasters) and make an average 3/4 trips per ship per month. This huge no of operations in inland
route has made us vulnerable to significant marine pollution due to direct discharge of bilges, oily water mixture, solid
waste and also the air pollution due to age old running engines/ machineries. In this paper, an approximate estimation
of pollutants such as bilges, oily water and solid waste has been made followed by the air pollution. An environmental
modelling has been done followed by the impacts of pollutants with the help of Eco Indicator 99 (I) of SimaPro. It has
been revealed that there are considerable impacts of marine pollution for prolonged inland cargo vessel operation. The
major consequences includes the climate change, destruction of fishing zone, respiratory problems of human being
and the rise of sea level. At the end, few preventive measures have been suggested in light of design modification,
regulatory enforcement to reduce the marine pollutions.
Downloads
Download data is not yet available.
References
[1] Baten, A. S. M. A., "Internal water transportation system: safety of inland Passenger vessels", National Defence College Journal, (2005).

[2] Bangladesh: National Programme of Action for Protection of the Coastal and Marine Environment from Land-Based Activities. Government of Bangladesh, Ministry of Environment and Forests, (2005-2006).

[3] Hasan, K., "Pollution of marine environment in Bangladesh by shipping and the preventive methods, "Proc. of International Conference on Environmental Aspects of Bangladesh, Japan, Sept (2010).

[4] Iqbal, K.S. and Rahim, A., "Mechanized country boats of Bangladesh: Assessing environmental impacts of hull form modification" in International Shipbuilding Progress vol 53, (2006).

[5] Karim, I., Assessing the impacts of oil spillage from ships on coastal environment of Bangladesh: means for response and mitigation, Thesis, Masters in Disaster Management, BRAC University, 2009.

[6] "Eco-Indicator 99 manual for designers" A damage oriented method for life cycle assessment by Sima Pro.

[7] ISO (1997b). Environmental management-Life cycle assessment- LCA ISO/CD 14042.1. 997.01.15.

[8] Rashid, Kaosar, "Evaluation of environmental pollution in Bangladesh by inland shipping operation" A thesis paper submitted to NAME department, BUET in fulfilment of the curriculum of M Sc Engineering, 2015.

[9] "Turn down the heat; Confronting the new climate normal" Report no 3, November 2014 by World Bank.

[10] Singh, RIB, "Marine pollution, its Causes, Consequences and Cure" Thesis report, Masters, Panjab University.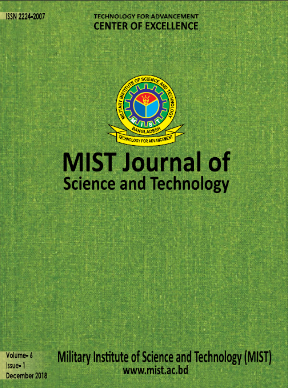 How to Cite
Kaosar Rashid. (2019). EVALUATION OF ENVIRONMENTAL POLLUTION IN BANGLADESH BY INLAND CARGO SHIP OPERATION. MIST INTERNATIONAL JOURNAL OF SCIENCE AND TECHNOLOGY, 6(1). https://doi.org/10.47981/j.mijst.06(01)2018.51(%p)
Though MIJST follows the open access policy, the journal holds the copyright of each published items.

This work is licensed under a Creative Commons Attribution-NonCommercial 4.0 International License.