NANOTECHNOLOGY: PROSPECTS AND CHALLENGES
Keywords:
Nanotechnology; Nanoscience; Nanoparticles; Nanotube; Fullerene; Quantum Dot
Abstract
Nanotechnology emerges from the classic talk entitled "There's plenty of Room at the Bottom" and has got
shape as a new field of research after the invention of scanning tunneling microscope (STM) and atomic
force microscope (AFM). Finally, the discovery of fullerenes and inventing Carbon Nanotube Tube (CNT) in
1990 became the launching pad of Nanotechnology. Fundamental concerns, synthesizing and characterization
technique have been discussed for understanding Nanotechnology in this review article. After 30 years of the
birth of this technology, manufactured Nano-products have reached to around 3500 and become available
for public usage. Worldwide scientists are pursuing for synthesizing nanomaterials with various objectives in
almost all encompassed fields of science, engineering and technologies. As such, the scope of applications of
Nanotechnology is becoming wider, and leading it to be more prospective. But in the meantime, some issues on
the usage of Nano-products have been surfaced those are to be mitigated and thereby scientist, engineers and
technologists would have to face as challenges in the near future. All these prospects and issues are discussed
briefly in this review article for the purpose.
Downloads
Download data is not yet available.
References
[1] H. W. Kroto, J. R. Heath, S. C. O' Brien, R. F Curl,
R. E. Smalley(1985),"C60:buckminsterfullerene",
Nature 318 (6042):162–163.Bibcode:1985Natur.318.162,
doi:10.1038/318162a0.
[2] K. Eric Drexler (1992). Nanosystem: Molecular
Machinery, Manufacturing, and Computation. New York:
John Wiley & Sons. ISBN 0-471-57547-X.
[3] R. V. Lap shin, (2004). "Feature-oriented scanning
methodology for probe microscopy and nanotechnology"
,Nanotechnology(UK: IOP) 15 (9) 1135–1151,
Bibcode:2004Nanot.15.1135L doi:10.1088/0957-
4484/15/9/006, ISSN 0957-4484.
[4] "Analysis: This is the first publicly available on-line
inventory of nanotechnology-based consumer products",
The Project on Emerging Nanotechnologies, 2008,
Retrieved 13 May 2011.
[5]R. R. H. Coombs, D. W. Robinson, Nanotechnology in
Medicine and the Biosciences, 1996, ISBN 2-88449-080-9.
[6]S. Rajiv; S. Santosh, Sharma, Sugandha (2010),
"Nanotechnology: The Future Medicine", Journal of
Cutaneous and Aesthetic Surgery 3 (1): 32–33.
[7]R.P. Singh, "The impact of nanotechnology is expanding
and nothing will remain untouched. Applications are
enormous and limitless. Nanotechnology enables in
doing things better than conventional technology", Amity
Institute of Nanotechnology, Noida.
[8]"Filling the Knowledge Gaps for Safe Nanotechnology
in the Workplace", National Institute for Occupational
Safety and Health CDC – NIOSH Publications and
Products, November 7, 2012, Retrieved 2012-11-08.
[9] American Elements, Retrieved13, "Nanotechnology
Information Center: Properties, Applications, Research,
and Safety Guidelines". May 2011.
[10] M A Ratner, D Ratner, Nanotechnology: A Gentle
Introduction to the Next Big Idea, 2002, ISBN 0-13-
101400-5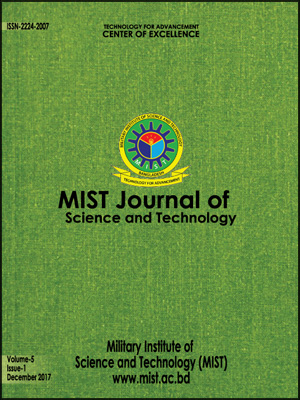 How to Cite
M. Z. Ahsan. (2019). NANOTECHNOLOGY: PROSPECTS AND CHALLENGES. MIST INTERNATIONAL JOURNAL OF SCIENCE AND TECHNOLOGY, 5(1). https://doi.org/10.47981/j.mijst.05(01)2017.115(%p)
Though MIJST follows the open access policy, the journal holds the copyright of each published items.

This work is licensed under a Creative Commons Attribution-NonCommercial 4.0 International License.