SINGLE ELECTRON TRANSISTOR (SET): OPERATION AND APPLICATION PERSPECTIVES
Keywords:
SET, QD, FET, CMOS
Abstract
The concept of miniaturization originated after the deliberation of a talk given by physicist Richard Feynman on 29th
December 1959, led to the development of quantum dot (QD), which is the basic building block of single electron
transistor (SET). SET is a new type of switching device used controlled tunneling of electron to amplify current.
According to Moor's law, SET may be alternative of complemented metal oxide semiconductor (CMOS) device for
the next generation electronic devices and sensors. This is a review article intended to consolidate the knowledge on
the working principle of SET along with relevant other aspects and also highlighting the promising applications with
limitation of implementations in the 21st century in order to reduce power dissipation.
Downloads
Download data is not yet available.
References
[1] February1960 issue of Caltech's Engineering and Science
[2] K. Eric Drexler, Nano systems: molecular machinery,
manufacturing, and computation by, Wiley 1992
[3] Anil Kumar and Dharmender Dubey, "Single Electron Transistor:
Applications and Limitations", Advance in Electronic and Electric
Engineering Volume 3, Number 1 (2013), pp. 57-62
[4] G. E. Moore, "Cramming more components onto integrated
circuits", Electronics, vol. 38, no. 8, pp. 114-117, Apr. 1965.
[5] G. E. Moore, "Progress in digital integrated electronics", Proc.
IEDM Tech. Dig., pp. 11-13, 1975.
[6] G. E. Moore, "VLSI: Some fundamental challenges", IEEE
Spectrum, vol. 16, no. 4, pp. 30-37, Apr. 1979.
[7] K. Eric Drexler, Bulletin of Science, Technology & Society, Vol.
24, No. 1, February 2004, 21-27
[8] W. F. Brinkman et al., IEEE Journal of Solid-State Circuits, vol.
32, 1997.
[9] Jacob Millman (1985), Electronic devices and circuits. Singapore:
McGraw-Hill International. p. 397
[10] D. J. Plummer et al, IEEE Proceedings, 89, 240 (2000).
[11] Junction Field-Effect Devices, Semiconductor Devices for Power
Conditioning, 1982
12] Baker, R. Jacob (2010). CMOS: Circuit Design, Layout, and
Simulation, Third Edition. Wiley-IEEE
[13] Kouwenhoven et al., Few Electron Quantum Dots, Rep. Prog.
Phys, 64 701 (2001)
[14] Om Kumar and Manjit Kaur, Single Electron Transistor:
Applications & Problems, International journal of VLSI design &
Communication Systems (VLSICS), Vol.1, No.4, December 2010.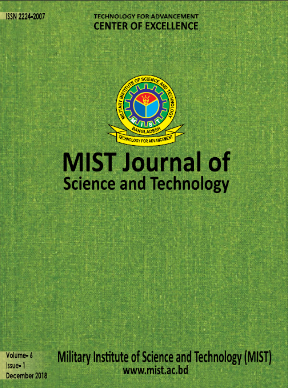 How to Cite
M. Z. Ahsan. (2019). SINGLE ELECTRON TRANSISTOR (SET): OPERATION AND APPLICATION PERSPECTIVES. MIST INTERNATIONAL JOURNAL OF SCIENCE AND TECHNOLOGY, 6(1). https://doi.org/10.47981/j.mijst.06(01)2018.56(%p)
Though MIJST follows the open access policy, the journal holds the copyright of each published items.

This work is licensed under a Creative Commons Attribution-NonCommercial 4.0 International License.