PREPARATION OF CONGESTION INDEX OF TWO MAJOR ARTERIALS OF DHAKA CITY BASED ON FLOATING CAR METHOD-AN EFFECTIVE TOOL FOR TRANSPORTATION PLANNING
Shantanu Ghose Sagar

MIST

Niloy Saha

MIST
Keywords:
Probe Vehicle, GPS, GIS, Congestion Index, Lateral Access Roads
Abstract
For effective transportation planning and management, determination of congestion index based on real time traffic information is very effective. This paper is objected to extract traffic information and asses the congestion level of two major arterials of Dhaka City which are Mirpur Arterial and Shahbag – Kuril Arterial based on floating car method equipped with Global Positioning System (GPS) and prepare a congestion index and present it in a Global Information System (GIS) Map which is likely to serve as an effective source of transportation information. The data collection was done for 4 consecutive weeks at different hours of the day mostly at the morning and evening peak and based on the collected data, traffic parameters were computed. From the study, it is found that Mirpur Arterial provides higher level of Service in terms of Avg. Travel Speed, Travel Rate, Avg. Delay Rate, Avg. Relative Delay Rate and Avg. Delay Ratio. Moreover, the arterials more congested at the regions nearer the Central Business District than the outskirt regions. The lateral access roads have also worsened the condition to a great extent. Unplanned growing of Dhaka city with improper planning of road network and land use is also another big problem. Based on the study provision of proper frontage road along Mirpur Arterial, proper off street parking facilities, bus industry consolidation and development of mass transit is recommended.
Downloads
Download data is not yet available.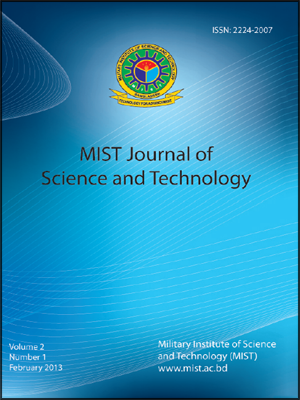 How to Cite
Shantanu Ghose Sagar, & Niloy Saha. (2019). PREPARATION OF CONGESTION INDEX OF TWO MAJOR ARTERIALS OF DHAKA CITY BASED ON FLOATING CAR METHOD-AN EFFECTIVE TOOL FOR TRANSPORTATION PLANNING. MIST INTERNATIONAL JOURNAL OF SCIENCE AND TECHNOLOGY, 2(1). https://doi.org/10.47981/j.mijst.02(01)2013.33(%p)
Though MIJST follows the open access policy, the journal holds the copyright of each published items.

This work is licensed under a Creative Commons Attribution-NonCommercial 4.0 International License.