PROSPECT OF USING RECYCLED CONCRETE AS COARSE AGGREGATE IN BANGLADESH
M. ASHIQUZZAMAN

Kookmin University, Seoul, Korea

SK. B. HOSSEN

MIST

F. M. Z. HOSSAIN

MIST
Keywords:
Recycled coarse aggregate (RCA), virgin (fresh) coarse aggregate (VCA), compressive strength.
Abstract
One of the major challenges of our present society is to construct the environment friendly structures with low cost technology. The use of recycled aggregates from construction sites and demolished concrete wastes is showing prospective application in construction as alternative to virgin (fresh) coarse aggregates. To focus the prospect of using recycled aggregate in the construction of Bangladesh, concrete cylinders were prepared by recycled aggregate and obtained laboratory results were compared to concrete cylinders made of virgin (fresh) coarse aggregates. This paper represents comparative study of the experimental results of concrete made of recycled coarse aggregate and virgin (fresh) coarse aggregate. In Bangladesh, due to the rapid growth of real estate business, many low rise buildings are need to be demolished to replace by relatively high rise buildings. Therefore, this study was carried out to check the possibility of using demolished concrete as coarse aggregate for new construction.
Downloads
Download data is not yet available.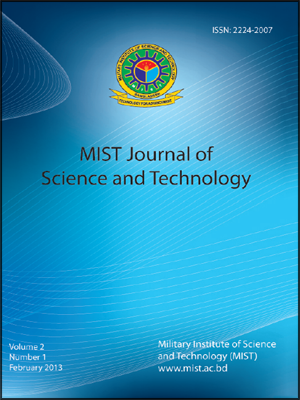 How to Cite
M. ASHIQUZZAMAN, SK. B. HOSSEN, & F. M. Z. HOSSAIN. (2019). PROSPECT OF USING RECYCLED CONCRETE AS COARSE AGGREGATE IN BANGLADESH. MIST INTERNATIONAL JOURNAL OF SCIENCE AND TECHNOLOGY, 2(1). https://doi.org/10.47981/j.mijst.02(01)2013.34(%p)
Though MIJST follows the open access policy, the journal holds the copyright of each published items.

This work is licensed under a Creative Commons Attribution-NonCommercial 4.0 International License.