BIT ENABLED WDM AVIONICS OPTICAL NETWORK: A STUDY IN RELIABILITY, MTBF & COMPARISON WITH NON-BIT BASED AVIONICS MAINTENANCE CYCLE
Nikhil Verma

MIST

Md. Easir Arafat Papon

MIST
Keywords:
Avionics Optical Network, BIT, Reliability, Failure Rate, Aircraft Maintenance Cycle, Fault detection, Fault Isolation.
Abstract
This paper describes the need and advantages of WDM optical network and its technical specifications to show it as a reliable and modular system to use in aircrafts. The paper explains the development in Avionics Optical Network Architecture, comparing Built In Tests and non-Built-In-Test based maintenance cycles. The paper has shown basic calculations to bring out the inherent advantages in failure rate and reliability in BIT enabled avionics optical architecture.
Downloads
Download data is not yet available.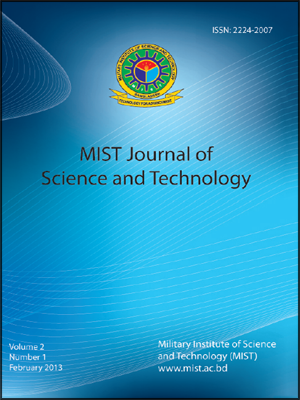 How to Cite
Nikhil Verma, & Md. Easir Arafat Papon. (2019). BIT ENABLED WDM AVIONICS OPTICAL NETWORK: A STUDY IN RELIABILITY, MTBF & COMPARISON WITH NON-BIT BASED AVIONICS MAINTENANCE CYCLE. MIST INTERNATIONAL JOURNAL OF SCIENCE AND TECHNOLOGY, 2(1). https://doi.org/10.47981/j.mijst.02(01)2013.36(%p)
Though MIJST follows the open access policy, the journal holds the copyright of each published items.

This work is licensed under a Creative Commons Attribution-NonCommercial 4.0 International License.