DEVELOPMENT OF DESIGN OF AEROFOIL SHAPED FUSELAGE AND CFD INVESTIGATION OF ITS AERODYNAMIC CHARACTERISTICS
Wing Commander G.M. Jahangir Alam

MIST

Dr. Md. Mamun

MIST

Dr. Md. Abu. Taher Ali

MIST

Dr. A. K. M. Sadrul Islam

MIST
Keywords:
Unmanned Air Vehicles (UAV), Aerofoil Shaped Fuselage, Aerodynamic Characteristics, Lift Coefficient, Drag Coefficient
Abstract
This paper explains about the computational design procedure for designing of an Unmanned Air Vehicles (UAV) having "Aerofoil Shaped Fuselage". It also explains and analyses of the aerodynamic characteristics of an "Aerofoil Shaped Fuselage". This model could be used for designing of the future UAV which would be used for many military and civil applications like scientific data gathering, surveillance for law enforcement and homeland security, precision agriculture, forest fire monitoring, geological survey etc. NACA 4416 cambered aerofoil with chord length of 100 mm has been used for this computational design. The aerodynamic characteristics of Aerofoil Shaped Fuselage has been carried out at two different velocities (20 m/s & 40 m/s respectively) with different angles of attack from -3o to 18o with 3o degree steps. This design has been made as well as numerical values have been obtained with the help of CFD software. The stalling angle for this design is found at about 15o. This model could be used for designing of the future UAV.
Downloads
Download data is not yet available.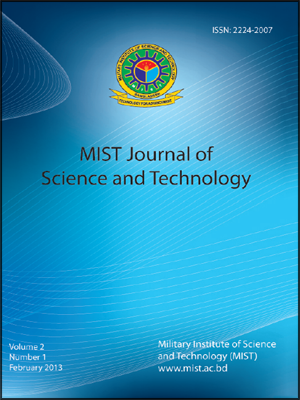 How to Cite
Wing Commander G.M. Jahangir Alam, Dr. Md. Mamun, Dr. Md. Abu. Taher Ali, & Dr. A. K. M. Sadrul Islam. (2019). DEVELOPMENT OF DESIGN OF AEROFOIL SHAPED FUSELAGE AND CFD INVESTIGATION OF ITS AERODYNAMIC CHARACTERISTICS. MIST INTERNATIONAL JOURNAL OF SCIENCE AND TECHNOLOGY, 2(1). https://doi.org/10.47981/j.mijst.02(01)2013.38(%p)
Though MIJST follows the open access policy, the journal holds the copyright of each published items.

This work is licensed under a Creative Commons Attribution-NonCommercial 4.0 International License.