DESIGN AND FABRICATION OF A BENCH MOUNTED CLOSED LOOP WIND TUNNEL
Gp. Capt. Abdus Salam

MIST

Dr. M. A. Taher Ali

BUET

S. M. AnwarulAziz

MIST

Asif Iqbal

MIST

Md. MijanurRahman

MIST

Istaqur Rahman

MIST
Keywords:
Floor mounted wind tunnel,bench mounted wind tunnel,fabrication, instrumentation, Labview
Abstract
A Bench-mountedclosed loop wind tunnel has been designed and fabricated to study the air flow characteristics and its effects on different models at different flow conditions. Thefabricated wind tunnel is sub-sonic nature with operating velocity from 0 to 18 m/s. The wind tunnel could be used to carry out research on different model for laminar and turbulent flow conditions .The wind tunnel is powered by two similar co-rotating axial flow fans and the air velocity could be varied by varying the fan speed. The wind tunnel consists of a test section, bell mouth nozzle, bends, guide vanes and fan section. An ATMega16 microcontroller based Data Acquisition Card (DAQ)has been incorporatedhere to measurepressure through pressure sensors. Steady state flow condition could be attained from the wind tunnel within short period of time to easily explain the flow parameterswhile carrying out the experiments.
Downloads
Download data is not yet available.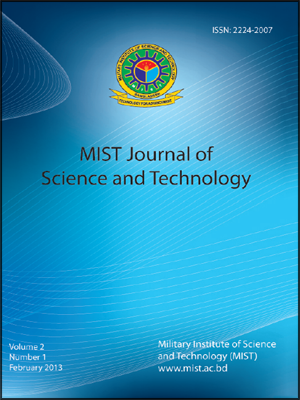 How to Cite
Gp. Capt. Abdus Salam, Dr. M. A. Taher Ali, S. M. AnwarulAziz, Asif Iqbal, Md. MijanurRahman, & Istaqur Rahman. (2019). DESIGN AND FABRICATION OF A BENCH MOUNTED CLOSED LOOP WIND TUNNEL. MIST INTERNATIONAL JOURNAL OF SCIENCE AND TECHNOLOGY, 2(1). https://doi.org/10.47981/j.mijst.02(01)2013.41(%p)
Though MIJST follows the open access policy, the journal holds the copyright of each published items.

This work is licensed under a Creative Commons Attribution-NonCommercial 4.0 International License.