ORGANIZATION AND MANAGEMENT PRACTICES OF UNIVERSITY LIBRARIES IN BANGLADESH: AN EVALUATION
Lieutenant Colonel Muhammad Sanaullah

MIST

Md. Moslem Uddin

MIST
Keywords:
Librarianship, Library Program, Library Administration, Automation, Library System, Research Organization, Library Management, Library Function, Library Service, Survey.
Abstract
This article provides an overview of the university libraries and explains in detail their various organizations,
management, collections, functions, systems, and services as a whole. It also profiles careers in library work,
the education of librarians, and several professional organizations for librarians. Academic libraries function
almost as the hearts in the academic activities of the University. The libraries perform their functions properly,
a body of knowledge has been developed and incorporated within the scope of the training programs in library
management. That's why a qualified librarian is needed to meet up such requirements. It is quite impossible
to control the entire library in pen and paper where there are a huge amount of books for the librarian. A
librarian (he/she) has to serve not only a single job, but also multiple jobs simultaneously. That's why it
is difficult to keep track of those jobs. Library management is the theoretical concepts of managing such
a library efficiently. Finally, the article describes contemporary library management in various university
libraries in Bangladesh.
Downloads
Download data is not yet available.
References
[1] Ahmad, Shamim, Computer in Library Management, APH
Publishing Corporation, New Delhi-110 002.
[2] Bishobiddaloy Campus, May-2006 Issue, Dhaka.
[3] Bishobiddaloy Campus, June-2002 Issue, Dhaka.
[4] Denton, Emil Miller (Editor), Library of Tomorrow, A.L.A.
Chicago, 1937.
[5] Dusaker, Herman (Editor), Function of the Library in the Modern
College, University of Chicago.
[6] Gidwani, N.N. (Editor) Foundation of Library Science, Sabs
Publishers, Bombay, 1968.
[7] Haimann, Theo, Professional Management: Theory and Practice,
New Delhi, Eurasia Publishing House, 1976.
[8] Higher Education in Bangladesh: Present and Challenges by Prof.
Monirul Haque, The Guardian, Issue-2, Vol-15.
[9] Immelman, R.F.M, Foundations of Library Management
[10] Lock, R.N, Library Administration, Crosby Lockwood and Sons
Ltd, London, 1961.
[11] Lyle, Guy R, Administration of the College Library, H.W. Wilson
Company, Newyork, 1955.
[12] Mukherjee, Subodh Kumar, Development of Libraries & Library
science in India, The World Press Ltd, Calcutta-1969.
[13] N, Vasantha and Mudhol, Mahesh V, Software Packages for
Library Automation, Ess Ess Publications, New Delhi-110 002.
[14] NDC Journal, Vol-2, Number-1, June-2003.
[15] Randall and Goodrich, Principle of College Library
Administration, A.L.A., Chicago, 1941.
[16] Ranganathan, S.R. Library Administration, Asia Publishing
House, Bombay, 1959.
[17] Rao, B.V.R, Administration and Organization of College Libraries
in India, Sterling Publishers (P) Ltd, 1969.
[18] Report of the University Education Commission (1948-49),
Ministry of Education, Government of India, New Delhi.
[19] The Guardian, April-2005
[20] Uddin, Md. Moslem "Libraries in Science and Technological
College and Universities", published by The Daily Independent April
28, 2006, Page-10, May 5, 2006, Page-10, and May 12, 2006, Page-
10.
[21] Wahiduzzaman, M., Approach to Library Administration,
University Press Limited, 1980.
[22] Yearly Report-2004, University Grand Commission.
[23] https://en.wikipedia.org/wiki/Academic_library
[24] https://www.igi-global.com/dictionary/use-cmc-technologiesacademic-
libraries/229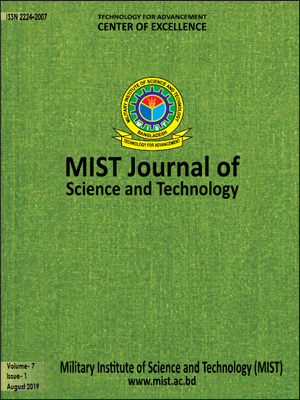 How to Cite
Lieutenant Colonel Muhammad Sanaullah, & Md. Moslem Uddin. (2019). ORGANIZATION AND MANAGEMENT PRACTICES OF UNIVERSITY LIBRARIES IN BANGLADESH: AN EVALUATION. MIST INTERNATIONAL JOURNAL OF SCIENCE AND TECHNOLOGY, 7(1). https://doi.org/10.47981/j.mijst.07(01)2019.138(%p)
Though MIJST follows the open access policy, the journal holds the copyright of each published items.

This work is licensed under a Creative Commons Attribution-NonCommercial 4.0 International License.