APPLICATION OF GEOJUTES IN CIVIL ENGINEERING - A NEW ERA IN JUTE SECTOR
Colonel M A Mohy

Bangladesh Army
Keywords:
Geojute; geotextiles; biodegradability; index, mechanical and hydraulic properties; economic aspects
Abstract
This study is undertaken to find out the feasibility of using geojute materials produced in Bangladesh as an alternative to geotextiles in civil engineering applications. Four types of untreated and three types of treated geojute samples were selected from Bangladesh Jute Mills Corporation (BJMC) and Bangladesh Jute Research Institute (BJRI). Laboratory tests were performed on these treated and untreated geojute samples to determine their physical, mechanical and hydraulic properties. An attempt has been made to compare these test results with the available geotextile data in Bangladesh. Based on these test results some design examples have been presented using the design methods developed for geotextiles applications. An economic aspect related to geotextiles and geojute materials is also presented. It is appreciated that if geotextiles are replaced with geojute in civil engineering applications as exemplified, significant economic benefit can be obtained.
Downloads
Download data is not yet available.
References
[1] Abdullah, A.B.M., (1999). "A hand book on Geotextiles Particularly Natural Geotextiles from Jute and other Vegetable Fibres", Bangladesh Jute Research Institute, Dhaka, pp. 33-87.
[2] ASTM D 3786 – 79 Standard Test Method for Hydraulic Bursting Strength of Knitted Goods and Nonwoven Fabrics-Diaphragm Bursting Strength Tester Method
[3] ASTM D 4491-96 Standard Test Methods for Water Permeability of Geotextiles by Permittivity
[4] ASTM D 4533-91 Standard Test Method for Trapezoid Tearing Strength of Geotextiles
[5] ASTM D 4595-86 (Reapproved 1994) Standard Test Method for Tensile Properties of Geotextiles by the Wide-Width Strip Method
[6] ASTM D 4632-91 Standard Test Method for Grab Breaking Load and Elongation of Geotextiles
[7] ASTM D 5199-98 Standard Test Method for Measuring the Nominal Thickness of Geotextiles and Geomembranes
[8] ASTM D 5261-92 Standard Test Method for Measuring Mass per Unit Area of Geotextiles
[9] Carroll, R. G., Jr., (1983), Geotextile Filter Criteria, Engineering Fabrics in Transportation Construction, TRR 916, TBR, Washington, DC. pp. 46-53.
[10] Koerner, R. M. (1997), Designing with Geosynthetics, 4th Edition, Prentice Hall Inc., New Jersey.
[11] Mohy, M. A. (2005) Evaluation of properties of geojute and its assessment for short term and long term civil engineering applications, MSc thesis, Department of Civil Engineering, BUET, Dhaka.
[12] Prodhan, Z.H., (1996), "Integrated Jute Geotextile Reinforced Earth Structures Design", Lead Paper presented on Regional Seminar on New Application of Jute, Jointly organized by IJO, UNIDO and ICS.
[13] Rao, A. S. (2003), "Jute Geotextile Application in Kakinada Port Area" Proc. of the National Seminar of Jute Geotextile and Innovative Jute Products, New Delhi, India, 25-26 Aug.
[14] Steward, J E., Williamson, R., and Mohney. J., (1977), "Earth Reinforcement in Guidelines for Use of Fabrics in Construction and Maintenance of Low Volume Roads", U.S. Forest Service. Portland, OR Talukder, M. K., Majumdar, A. K., Debanath, C. R. , Majumdar, A., (1998), "A Study of Jute and Polypropylene Needle Punched Nonwoven Fabrics for Geotexiles", First Indian Geotextiles Conference on Reinforced Soil and Geotextiles, Bombay, India, 8-9 December, 1988, pp. G3-G7.
[15] U.S. Departments of the Army and the Air force (1995), "Engineering Use of Geotextiles", Technical Manual, Army TM 5-818-8 & Air Force Afjman 32-1030.
[16] Welsh, J. P., (1977), "PennDOT Uses a New Method for Solving Scour Problems beneath Bridge Piers", Highway Focus, Vol. 9, No 1, pp. 11-19.
[17] Whitcomb, W., and Bell, J. R., (1979), "Analysis Techniques for Low Reinforced Soil Retaining Walls," Proc. 17th Eng. Geol. Soils Eng. Symp., 'Moscow, ID: Idaho DOT, pp. 35-62.
[18] Williams, N. D., and Abouzakhm. M. A., (1989), "Evaluation of Geotextile/Soil Filtration Characteristics Using the Hydraulic Conductivity Ratio Analysis," Journal Geotextiles and Geomembranes, Vol. 8, No. 1, pp. 1-26.
[19] Yamauchi, T. (1992). "Historical Review of Geotextiles for Reinforcement of Earth Works in Asia", Proc. of the International Symposium on Earth Reinforcement Practice, Fukuoka, Kyushu, Special & Keynote Lectures, pp. 1-15.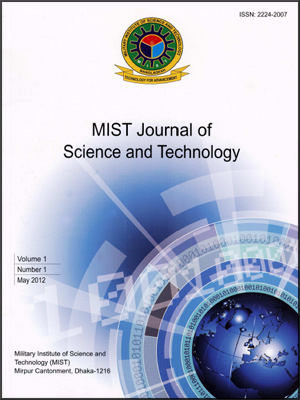 How to Cite
Colonel M A Mohy. (2019). APPLICATION OF GEOJUTES IN CIVIL ENGINEERING - A NEW ERA IN JUTE SECTOR. MIST INTERNATIONAL JOURNAL OF SCIENCE AND TECHNOLOGY, 1(1). https://doi.org/10.47981/j.mijst.01(01)2012.28(%p)
Though MIJST follows the open access policy, the journal holds the copyright of each published items.

This work is licensed under a Creative Commons Attribution-NonCommercial 4.0 International License.