ACCOUNTING INFORMATION SYSTEM (AIS) PRACTICES AND ITS EFFECTS ON SMES: THE BANGLADESH HANDLOOM INDUSTRY EXPERIENCE
Md. Ismail Hossain

Hasanpur Shahid Nazrul Govt. College, Daudkandi, Cumilla

Major Md. Ferdausur Rahman

MIST
Keywords:
Accounting Information System (AIS), Small & Medium Entreprise (SME), Handloom Industries
Abstract
The study is aimed to identify the scenario of practicing the Accounting Information System (AIS) by Benarashi,
Jamdani, Reshmi, Shari, Lungi and Gamcha producing Handloom industry of Bangladesh. A qualitative research
design was employed and a non-probability sampling design in the form of a convenience sampling method was
employed to gather the data. Data were drawn from both primary and secondary sources. Primary data was drawn from
30 small-scale Shari-Lungi producers, 5 each from Pabna, Sirajgonj, Tangail , Dhaka , Narayangonj, and Narshingdi of
Bangladesh by administering semi-structured questionnaires through personal interviews. There are many perceived
factors affecting their adoption of accounting information system practices and their effects on their business operations
in the area. Among such factors include; lack of adequate knowledge and training, willful misconduct, and negligence
from owners as well as controlling authority part. It is also revealed that, all levels of employees are ignorant about
the use of Accounting Software; rather they try little to keep accounting records manually. It was also found that
accounting illiteracy is the root cause of that. It was concluded that the lack of accounting knowledge and skills may
in future threaten the financial steadiness of the Handloom Sector. In sustaining the sector, the findings recommends
operators to undergo basic accounting training as well as Accounting Software training to acquire relevant knowledge
and skills, employ qualified accounting information systems personnel and providing them with good motivational
packages to ensure that their efficiency and morale is enhanced and, maintain strong internal control to check the
practice of misappropriating funds in the business.
Downloads
Download data is not yet available.
References
[1] Abedin, M, J (2018) Role of SME clusters in Bangladesh economy,
The Independent, dated 29/10/2018.
[2] Ahmad, MU (1999), 'Development of Small-scale industries in
Bangladesh in the New Millennium: Challenges and Opportunities',
Asian Affairs, vol. 21, no.
[3] AL Smirat BY (2013) The use of accounting information by small
and medium enterprises in south District of Jordan, (An empirical
study). Research Journal of Finance and Accounting 4: 169-175.
[4] Asian Development Bank (ADB) 2002, '"Strategic Issues and
potential Response- Small and medium Enterprise Development and
export expansion"', Yearly Report, Research, Asian Development Bank, ADB, Dhaka.
[5] Banarjee, S.; Muzib, M. M. and Sharmin, S. (2014), Status of
Handloom Workers and Causes of Their Migration: A Study in
Handloom Industry of Tangail District, Bangladesh, Research on
Humanities and Social Sciences, Vol.4, No.22, 2014.
[6] Bangladesh Bureau of Statistics (BBS). (2005). Report on
Bangladesh Handloom Census 2003.Dhaka: Planning Division,
Ministry of Planning.
[7] BHB (2012), 'Importance of Handlooms in Bangladesh', Article,
Bangladesh Handloom Board, Bangladesh Handloom Board,
Bangladesh Handloom Board, Dhaka.
[8] Bhattacharjee, D. and Khaled, M. (1969). Marketing of Small
Industries Products in East Pakistan.Dhaka: Bureau of Economic
Research, Dhaka University.
[9] Ismail NA, King M (2007) Factor influencing the alignment of
accounting information systems in small and medium sized Malaysian
manufacturing firms. Journal of Information Systems and Small
Business 1: 1-20.
[10] Khondoker,A. M and Sonobe, T. (2011), Determinants of Small
Enterprises' Performance in Developing Countries: A Bangladesh
Case, The National Graudate Institute For Policy Studies (GRIPS),
Tokyo, Japan, January 2011.Online at https://mpra.ub.uni-muenchen.
de/44006/ MPRA Paper No. 44006, posted 27 January 2013 00:27
UTC.
[11] Latif, Muhammad Abdul. (1997). Handloom Industry of
Bangladesh 1947-1990. Dhaka: University Press Ltd.
[12] Liton M. R. I, T. Islam, S. Saha. (2016) Scenario and Future
Challenges in Handloom Industry in Bangladesh Social Sciences. Vol.
5, No. 5, 2016, pp. 70-76.
[13] Rahmatullah M.N, Begum R, Naha K. and Sultana R. (2010)
Effect of Microcredit on Handloom Weavers of Grameen-Check
Producers of Sirajganj District of Bangladesh: A Case Study in Six
Selected Villages Journal of Experimental Sciences Vo l. 1, Issue 4,
Pages 21-26.
[14] Zohir, I. S. (1996): "An Assessment of Industrial Policy in
Bangladesh": What Policies are We Talking About?"
[15] https://en.wikipedia.org/wiki/Small_and_medium-sized_
enterprise.
[16] https://stats.oecd.org/glossary/detail.aspID=3123 (OECD SME
and Entrepreneurship Outlook ,2005, OECD Paris, page 17)
[17] http://www.businessdictionary.com/definition/accounting.html.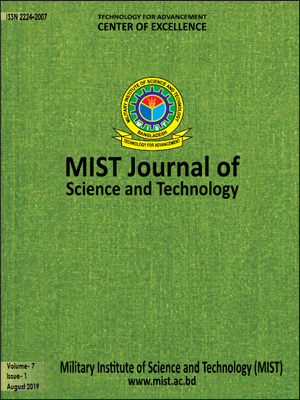 How to Cite
Md. Ismail Hossain, & Major Md. Ferdausur Rahman. (2019). ACCOUNTING INFORMATION SYSTEM (AIS) PRACTICES AND ITS EFFECTS ON SMES: THE BANGLADESH HANDLOOM INDUSTRY EXPERIENCE. MIST INTERNATIONAL JOURNAL OF SCIENCE AND TECHNOLOGY, 7(1). https://doi.org/10.47981/j.mijst.07(01)2019.134(%p)
Though MIJST follows the open access policy, the journal holds the copyright of each published items.

This work is licensed under a Creative Commons Attribution-NonCommercial 4.0 International License.